We have talked about the Danish movie Skyscraper for months and months, and it's finally getting released (outside the film festival circuit) this September in Denmark. Soundtracks are often released a couple of weeks before the movie itself, and that is also the case with Jonas Bjerre's Songs and Music from the Movie Skyscraper (out on August 15th). I often like to listen to the score before I see the movie, so I was happy to get a review copy for this one. As a fan of Mew, I may not be the most objective reviewer, but I just can't see any negative reviews coming up either…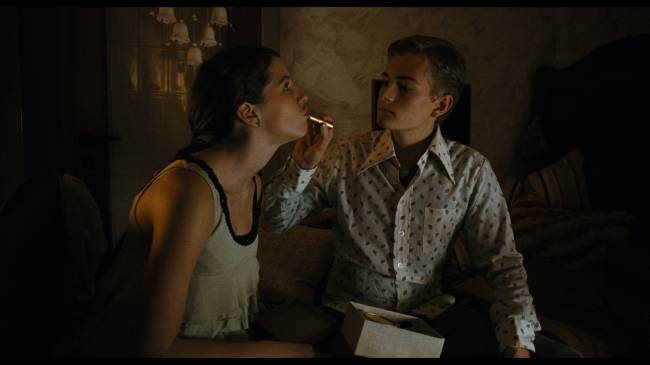 Let's keep in mind that half of the tracks are instrumental, and because this is a soundtrack review, we should start talking about the ones with no vocals first. The 40-minutes-ish long album kicks off with a calm track called Colours (mainly a piano-based piece) and it sets the mood pretty well. Later Colours is reprised as the closing track as well, in a very different variation. The latter (Slide Version) is quite David Lynch-ian (not referring to Angelo Badalamenti here, but more like the 1950's hit track Sleepwalk from Santo & Johnny), and it could've fitted perfectly on the movie Blue Velvet, for example. One more version of the song (Bell Version) was made, but Jonas didn't put that on the album in the end.
Twins is an instrumental with Agnete Hegelund singing choir. Remember Julee Cruise's beautiful voice (with extra-echo) and the red curtains in Twin Peaks? I get that feeling here, or is it just the similar title at work? Anyway, Agnete has a pretty voice. By the way, all titles refer to characters and events in Skyscraper, and they are not in the same order (standard for soundtracks; for avoiding spoilers). On this record, there's plenty of piano, but guitar is also constantly present. Picking Up All the Oranges doesn't sound very Danish to me (what does Danish sound like, really?). It's more like Mexican, if anything… composer Gustavo Santaolalla could have used something similar on the movie Babel, I suppose. Edith (together with Colours and a few other tracks) are also accompanied by some background noise which is not necessarily a bad thing. Some cars just happened to pass by Jonas' apartment window before Becky Jarrett (of Symmetry fame) sang choir on Edith. A cute little track, as many of these are. Short and cute. There's a positive feeling throughout the album. Mew are more melancholic than this in general.
One of the best instrumentals, Ben & Jon (with some vocals by Jonas) feels like a continuation of the chorus of Saliva, with the requisite happy clapping beat and tempo. Another version of Ben & Jon (with different tempo and scale) was made, but it didn't make onto the album. If you are a fan of Mew's older stuff, some comparisons are inevitable. Well, In a Small Town is quite reminiscent to And the Glass Handed Kites -era intermissions. Now… I seem to be comparing this and that to this and that, but this soundtrack is wholly original (just like Mew always are). I'm just trying to give you the big picture here. OK?
Nearly every track is used in the film, some with just less vocals. You can't distract the film's own dialogue too much, you know. As I have not seen the actual film yet, just trailers, there's very little I can say about the tracks fitting the film. Although referring to the story all the time, some of the lyrics are just more abstract than others. Not surprising with this songwriter.
There's a Cloud In My Brain is probably the most straightforward song on the album, definite single material, and it's not even in the movie. Also, large parts from Waste It and The Story of a Would-be Traffic Light were not used in the film. Instead they have a different instrumental continuation. As of now, the latter is my favourite track on the album. It's very Mew -like, it begins from a completely different place than where it ends, and it contains more than one or two melodies within its five minutes. Also, some marching drumming (as in Louise Louisa) occurs – how many instruments can Jonas play? Maybe not a trumpet. Bo Rande plays that on Spill the Beans.
Kids Don't Fight was the first track to be released, but it's not even close to being the best one here, in my opinion. I find myself concentrating on There's a Cloud In My Brain, The Story of a Would-be Traffic Light, Running and Until Tomorrow Finds You (with an unbelievably beautiful melody!!!) the most, but no tracks can be skipped. It's a true album in that sense. The order of the tracks has been planned carefully. Jonas knows you probably want to listen to the songs rather than the instrumentals, so in many cases the minute-long melodies feel like continuations or intros to the songs around them.
Jonas wrote these tracks, on and off, over a two-year period, and it shows. Melodies are aplenty. I congratulate him for creating such beautiful tunes once again. I wouldn't be surprised if he won some Danish film awards (score and/or song) early next year. If I think about Jonas' previous solo stuff and Apparatjik (which I am not a huge fan of), I can honestly say that this is easily his best yet. As title suggests, the lyrics in The Story of a Would-Be Traffic Light switch the lights from green to red. Jonas' album is green. It's OK to go.
Tero Heikkinen
PS: We don't give stars on MewX. They are for dummies (like myself quite often) who don't bother reading the articles, but just stare at the numbers.
"I went to great lengths getting a proper vinyl mastering done, nowadays most labels just take the 44.1 kHz / 16 bit CD master and record it onto vinyl… which is a travesty. It completely negates the advantage to the analogue format. The order of songs is slightly different on the vinyl because I had to split it up in two more or less even parts (side A/B) and also because the inner circles on a vinyl have less spectrum bandwidth and so you should not put tracks on there that are full of rhythm and bass. The vinyl also has more dynamics than the CD, although I did go easy on the CD too, I hate how mastering has become a battle for loudness, it kills all the feeling in music in most albums today, in my opinion." –Jonas Bjerre