Bornholm, Denmark (August 25th, 2012)
It's September. Yes, we are sometimes busy and late with these things. A week ago – exactly – I was at Kastrup airport ready to fly to Bornholm island which is geographically closer to Sweden and if you take a ferry there, you pretty much have to travel via Sweden. It would've taken four hours by train and ferry, so we decided to fly. Mew took a ferry. The biggest town on the island is called Rønne, but with less than 14,000 residents it is still smaller than many Copenhagen suburbs. It is a lovely town, but it's also like a ghost town on Saturday evening (and the whole of Sunday). Almost everything closes at noon. No-one was holding a beer can on the streets and that's not very Denmark-like. The kids seemed to be as crazy as they are in the capital city, though. In order to get to Hammershus, where you'll find Wonderfestiwall, you need to take a bus that takes an hour to get there. For 50DKK that is a real bargain, because you get to see some of the most beautiful scenery Denmark has to offer. For 450DKK you get a taxi ride and that is what we took when we returned. It takes an effort to get to the festival grounds from Copenhagen, but it is definitely worth it.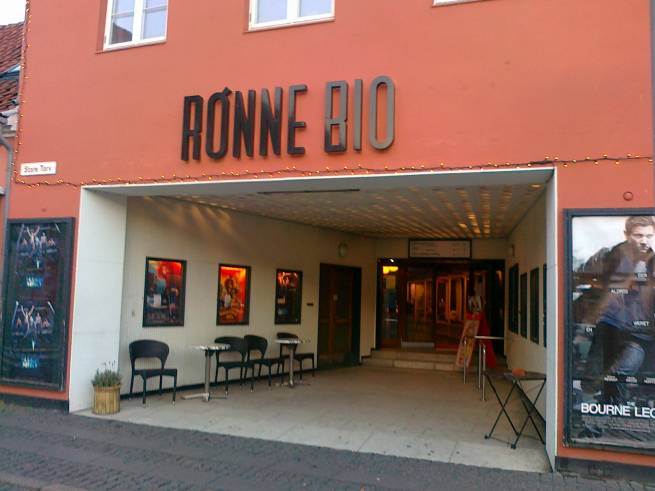 Local movie theater on a busy Saturday evening (Photo: Tero Heikkinen)
Wonderfestiwall is a small event that invited approximately 3,000 attendees in 2012. To get a good idea of the festival area, check out this aerial video. Mew were headlining, obviously, but some of the biggest Danish acts (like Turboweekend, Dúné and Spleen United) were also present over the three days of festivities. You didn't need to queue much to see Mew. If you were by the main stage half an hour before the show, you were surely in the front row. The festival tickets were cheap (500DKK or 700DKK with transportations from Copenhagen and back), the drinks were cheap (25DKK for a beer or 100DKK for five beers), so how do these people make money and are able to afford the bands? Well, they must get some special funding, for sure. You know, the government supporting the more rural areas.
Mew played for an hour and 15 minutes, but it could have been longer since the setlist mentions Introducing Palace Players which was not played after all. This has got to stop (I say this jokingly). It's one of their best tracks (I joke not) and it gets skipped the second time in a row. Personally, I would've skipped Snow Brigade instead, but maybe you don't agree? This was also the windiest Mew show I've seen. The smaller screens on stage were wobbling dangerously, and the crew were taping them to the floor so that they didn't fly away. The sound didn't suffer one bit still, and heavy wind can do that. Oh well, I found myself from the second row anyway (in front of me some good Mexican fans who love the "celebrate el sueño" -bit a lot). The setlist was similar to Pstereo, and there's just something when a band opens with a line: "shut up, boy" and ends the show with "picking up the phone" (allegedly). Well, they probably won't publish the current lyrics for Boy and Klassen, because they are not the final ones – nor are the track titles.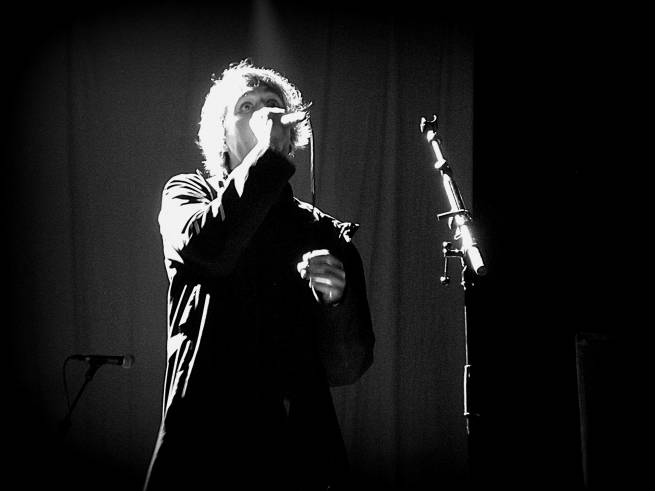 (Photo: Anonymous)
With this band, bass player Bastian Juel of today is not the same as six years ago. He has so much confidence on stage now. During The Zookeeper's Boy he jumped on Silas Graae's platform and reminded me of Johan Wohlert quite a bit there. You know, 156 is huge in Denmark. Maybe because for many this is the song that introduced them to the band. The sing-a-long in the audience was stunning, but the jumping parts make me feel old. Jonas Bjerre mentioned that he learned to ride a bicycle on Bornholm island, and he was not the youngest boy when it happened. Apparently Mew have played on the island before – once or twice – but you may have to look a while back in the records to find those shows. I think this was the first Mew show where I could really hear Bo Madsen's singing during Bamse, and yes, he can sing well.
They took a good couple of minutes backstage before the encores and then something happened with Special. I'm not completely sure, but it looked like Bastian missed his cue and they had to stop playing for a second, but picked up quickly without anyone really noticing. What a lovely little festival, and would love to return someday. And this particular show was also very very good, but – after the Norway's gig later this month – it looks like it will take a while before actual touring takes place. They are more than halfway through with the upcoming album, so all concentration goes there (and the creation of the new Mewsite, of course).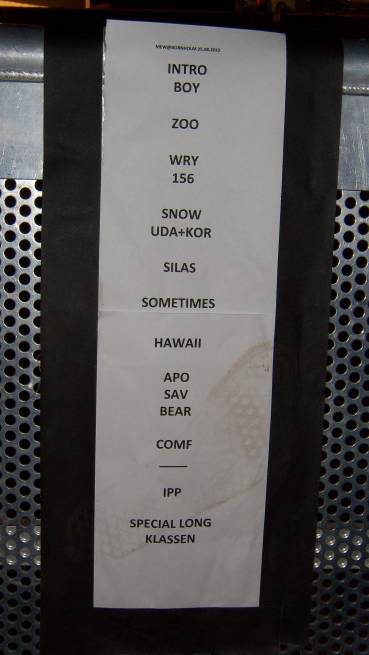 CSI experts solved the mystery behind the footprint, but skipping IPP was news to them (Photo: Lizethe Rivera)
Text: Tero Heikkinen