Kuala Lumpur, Malaysia (October 31st, 2013)
October 31st has been a delightful night for frengers in Malaysia, because Mew held a show for the first time in (KL Live) Kuala Lumpur. Mew played 17 songs (90 minutes) for an estimated audience of around 2800 frengers (with some Indonesian Frengers, Singaporean, Thai and even South Korean frengers present). KL Live has two floors and I decided to see Mew's performance from the second floor. From the top, I heard Jonas Bjerre's voice clearly enough and the sound quality was pretty good, so I could enjoy the whole concert. Such a beautifully styled lighting also made it seem as if Mew floated in the air before merging with the atmosphere, resulting in a view of profound impact.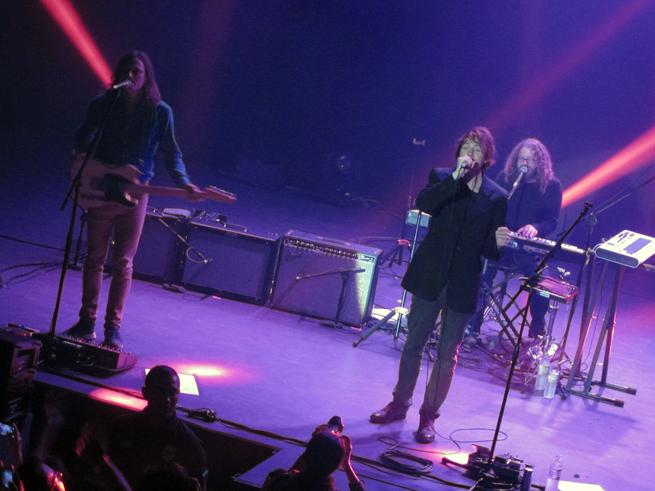 Silas Graae emerged precisely at 8:30 pm, and from the first minute to the last, Mew did not let the energy drop. Although they had a smaller stage than the previous show in Indonesia, they did not reduce their stage act. Mew appeared so fresh and vibrant. Bastian Juel's and Nick Watts's performances were very energetic throughout the show. Frengers were also no less energetic. They were very passionate and enthusiastic especially during hit songs such as Special, The Zookeeper's Boy, Snow Brigade, She Spider, Am I Wry? No, 156 and certainly Comforting Sounds.
To be honest, I am surprised that Mew played Sometimes Life Isn't Easy (one of the songs that I really wanted to hear live and I'm lucky to have been able to do so again). Initially it was quite strange and quite "cold" because of the lack of visual backdrops where people are clapping hands and where you can see the shabby children's choir, but assisted with lighting and a new arrangement in the end dilute the effect of the "coldness". Ending the show with Comforting Sounds, Mew's appearance was impressive.
Urbanscapes Satellite Show #1 setlist:
Making Friends / Special / The Zookeeper's Boy / Snow Brigade / She Spider / Apocalypso / Saviours of Jazz Ballet / Medley (of Koor, The Zookeeper's Boy and The Seething Rain Weeps For You) / Shelter / Swanky / New Terrain (new version) / Klassen / Hawaii / Sometimes Life Isn't Easy (new version) / Am I Wry? No / 156 — Comforting Sounds