Copenhagen, Denmark (June 12th, 2013)
Bo Madsen said on Facebook that they have not played many shows lately. Yes, it's so true. This was only the sixth live show in almost three years. In 2011 they didn't play at all and last Summer only saw five performances and they were all more or less similar.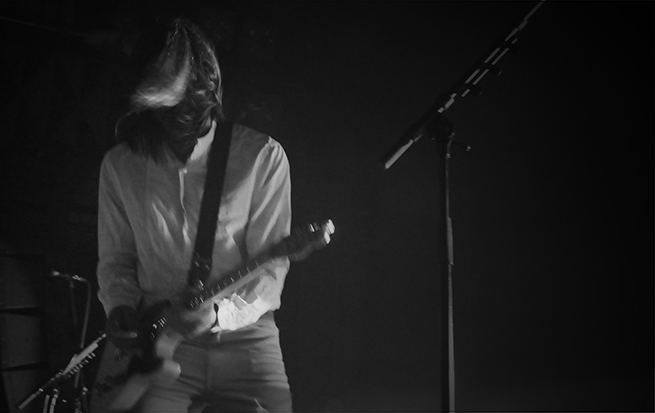 As was expected from last night's show in their hometown, Mew opened with a new song that is currently called Making Friends. Whether the title will be the final one, only time will tell, but they do sing about making friends so maybe it will be. The album is only a few months away anyway. This was a slower song that had a very offbeat rhythm. Something where Mew are no strangers. It also came with a weird creaking guitar sound that was probably just due to some technical issues, being the first track and all. To me, Making Friends probably needs a few more listenings to really grow on me. It didn't hit me on first hearing in the same way that Klassen did last Summer, for example. Oh, and how the aforementioned track has developed in the last year. It is now a completely different song with a couple of new melodies that make it sound really epic. Maybe on the upcoming album it will be one of the longest tracks, because this live version was already about six minutes long. Still being shorter than the previous version of Klassen.

Making Friends was played with all the venue lights still on, by the way. And the moment Special hit, the lights when out and only the stage lights were on. I can honestly say that Special has never kicked in this effectively before. Very cool thing to do. Also (just a fun little detail), for this new opening song, all other players were on stage before guitarist' arrival, and when has that happened before with Mew? Uhm, never? Usually the singer is the one to be seen last.
The sound in 1,500 capacity Store VEGA was absolutely stunning so it's no wonder that it's one of the more popular venues in Copenhagen. But is it too small for Mew? After last Summer's Roskilde Festival everything feels small, I guess. Needless to say, this show was sold out. The bass was really loud at times so I think I made a good choice by standing way in the back. Klassen rocked, and it didn't really "rock" before. Jonas Bjerre's voice was very audible and it was in top form. They also had mixed up the stage setting for themselves a little. This time Silas Graae and Bastian Juel were on the right side of the stage, Bo and Nick Watts on the left, Jonas still being in the middle, naturally.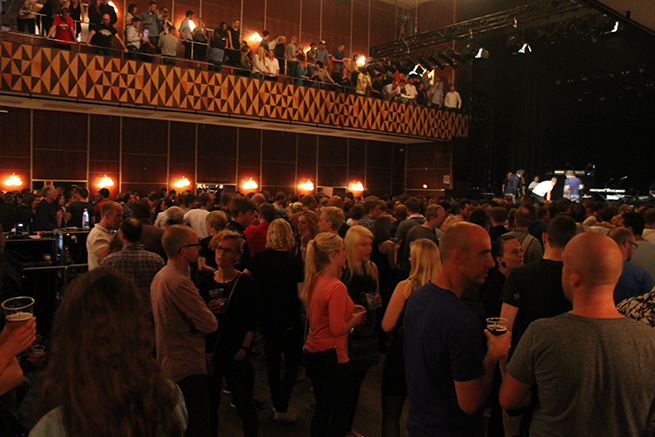 As always, Bo found a lot of time to improvise and that's basically the only place where Mew does that, apart from random speeches in between songs. Actually they could've improvised a lot at Store VEGA if they had wanted because they didn't – for some odd reason – use the visual backdrops at all. Do they want to show us that their songs can do just fine without them (and they can) and/or are they planning to do something bigger, something new for the future shows? I believe that something special is about to happen soon. Not at Hultsfred Festival today, of course, because that show was played in daytime and the audience had to stand in the rain. Unfortunately. So, that couldn't be one of their best shows.
Then there was this new Medley that consisted of that previously heard bit from an untitled track. We call this bit Koor, but also The Zookeeper's Boy and The Seething Rain Weeps For You (for the first time ever) were thrown in here. Mew said that they haven't played Behind the Drapes in years, and that is true. In fact it did make a rare appearance in Moscow (of all places), but other than that it's been a decade since they've played this live. I welcome the return of this song whole-heartedly.
New Terrain is one of my personal favourites from No More Stories and the song made a glorious return in a very different form. A long intro and a rather violent ending to it. You have to hear this to believe the "brutality" of it. Amazing version. Tomorrow we (MewX.info) will be in Finland for Provinssirock and we will back with a review. Until then…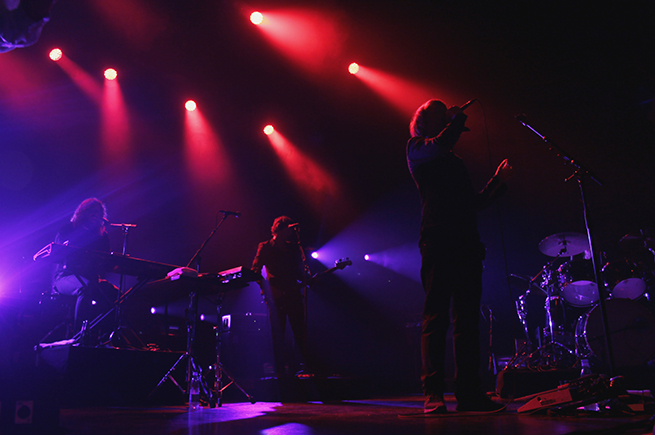 Text: Tero Heikkinen
Photos: Dabo De Lira
Photo Gallery

Store VEGA setlist:
Making Friends / Special / The Zookeeper's Boy / Snow Brigade / She Spider / Apocalypso / Saviours of Jazz Ballet / Medley (of Koor, The Zookeeper's Boy and The Seething Rain Weeps For You) / Klassen / Hawaii / Am I Wry? No / 156 / Eight Flew Over, One Was Destroyed —– Circuitry of the Wolf / Chinaberry Tree / New Terrain (new version) / Behind the Drapes / Comforting Sounds
And from today (June 13th, 2013)…
Hultsfred Festival setlist:
Making Friends / Special / The Zookeeper's Boy / Snow Brigade / Apocalypso / Saviours of Jazz Ballet / Medley (of Koor, The Zookeeper's Boy and The Seething Rain Weeps For You) / Klassen / Am I Wry? No / 156 —– Circuitry of the Wolf / Chinaberry Tree / New Terrain (new version) / Comforting Sounds