Shepherd's Bush Empire (London, November 10th)
La Maroquinerie (Paris, November 12th)
Mew finished their UK/Ireland tour of seven shows in London's famous Shepherd's Bush Empire last week. Approximately 2000 people attended and the show was eventually sold-out. In England people may not be as crazy as in Nordic region, but they seemed to know the lyrics and are not shy to sing along. In a city the size of London you should be able to find enough dedicated Mew-fans, for sure. The hundred-year-old venue is a beautiful theater rather than a place where rock bands may feel at home, but it seemed to work for the visual Danes. Best place to stand would be right in the middle, from the sides you would definitely miss parts of the visuals on stage (I missed about 40% of the screen). This was the second time Mew have sold all their tickets for this venue, even when many must have been invited on guest list (the band members lived in London for a few years, as we all know). The staff at Shepherd's Bush Empire can be very rude and they all seem to have different rules on photography issues, so it may be best if you just leave your camera home. Warming up for the last time were the decent Choir of Young Believers, who opened for Mew throughout the British Isles.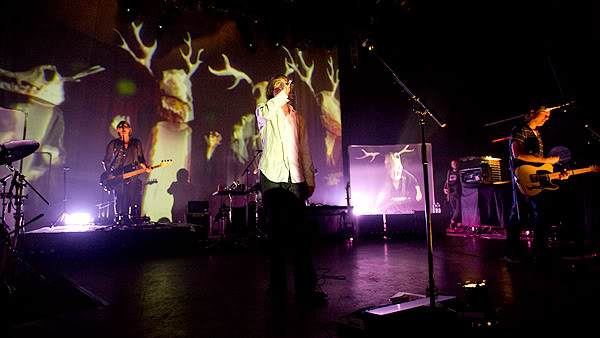 A Londoner himself, Nick Watts seemed to be rocking his socks off and the others followed his enthusiasm. Still, this show was quite ordinary compared to the amazing intimate show in Paris just two nights later. Ordinary? Surely Mew are never bad, but sometimes the interaction between audience and the band elevates to a magical level, as you may see if you keep reading this post.
London setlist:
Intro / Reprise / Hawaii / Special (Long Version) / The Zookeeper's Boy / Am I Wry? No / 156 / Apocalypso / Saviours of Jazz Ballet / Bamse / Uda Pruda / Beach (Long Version) / Introducing Palace Players / Sometimes Life Isn't Easy / White Lips Kissed / Silas the Magic Car / Repeaterbeater / Snow Brigade —– Comforting Sounds
*****
Part Bar, Part Café – All Mew
After London, Mew performed a show in Amsterdam and then it was Paris (where a local band called The Two opened for them). Known for bohemian and artistic lifestyles, Paris itself is a character and everywhere you look is a postcard. It could very well be the most beautiful city in the world and Mew should fit in very well. La Maroquinerie is a tiny venue that mixes wine and coffee culture with live music sets, and approximately 350 people had arrived to see the band. Mew will officially release their albums in France next year, so expect this being the last time they'll play in such a small venue in a city of millions of habitants. Earlier this year they had warmed up for Nine Inch Nails in Paris and – as result – some of Trent Reznor's fans were spotted at La Maroquinerie (=leather).
Although the show was attended by a high number of foreign fans, the Parisians know how to welcome an act on stage. Even Mew thought the show went exceptionally well and the locals seeing them for the first time got quite emotional during the almost 90-minute set. Mew have recently played very interesting setlists whereas it was pretty much the same show over and over again during the whole And the Glass Handed Kites -tour. Just compare these two shows and you'll see that there's no telling what the future gigs will turn out to be.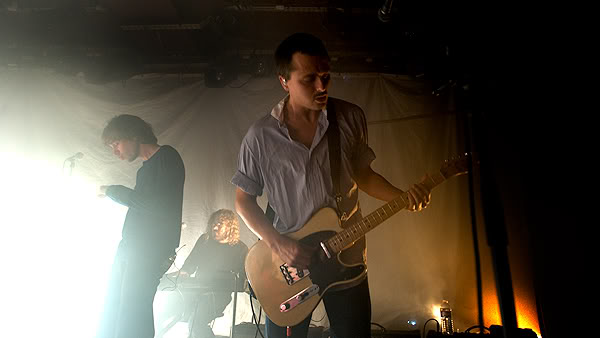 Some highlights of this show. Eight Flew Over, One Was Destroyed appeared after a long break. Sometimes Life Isn't Easy was played just before the encores and this makes perfect sense, for they can now leave the stage and let Nick Watts and Mari Helgerlikova keep you company. I think this will be quite common in future shows. Also, look at Silas Graae during Hawaii Dream. He may be playing the beats with his bare hands… and may I just add that no song kicks off like Repeaterbeater does. Maybe that track should be extended like Beach has been. When the aforementioned track reaches its end, it just keeps on going and it feels great when it does so. Bo Madsen has found new interesting ways to make songs sound different and funkier than on the album, he really improvises a lot. The singing voice of Jonas Bjerre is in top form and Bastian Juel rocks the bass with complete confidence. Overall, Mew-shows don't get much better than this. Top score.
Paris setlist:
Hymn / Circuitry of the Wolf / Chinaberry Tree / Introducing Palace Players / Special (Long Version) / The Zookeeper's Boy / Am I Wry? No / 156 / White Lips Kissed / Hawaii / Hawaii Dream / Eight Flew Over, One Was Destroyed / Repeaterbeater / Beach (Long Version) / Sometimes Life Isn't Easy —– Apocalypso / Saviours of Jazz Ballet / Bamse / Comforting Sounds
Tero Heikkinen
Photos by Emi Wakatsuki