Trondheim, Norway (August 18th, 2012)
"I've been through Hell, I can take anything". This became a little joke for us, because after you have landed on Værnes airport and you are on your way to Trondheim, the next town is called Hell. Seriously. Add your own joke here. Trondheim's history goes back a thousand years or something. It's a real Viking city – today with less than 200,000 local residents. It's also one of Norway's major University cities, therefore a perfect setting to arrange festivals and have easy-going night clubs. Pstereo Festival is literally held in the backyard of this very old cathedral. Talk about contrast.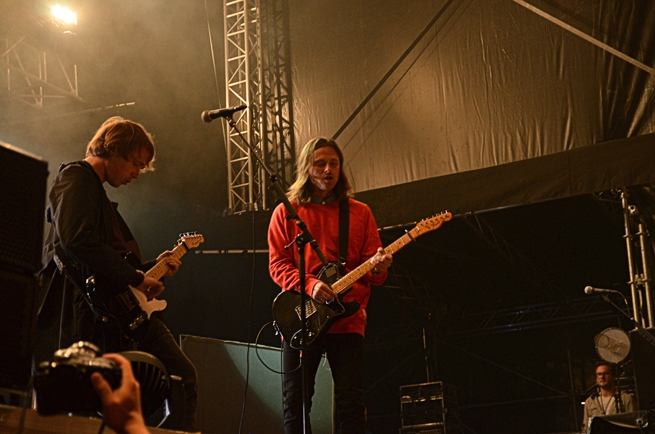 If we have now seen Hell (even if it was just a little glimpse), I think we've also seen Heaven. Mew were nothing short of that when they took the headline spot on Saturday evening. Mew took the main stage Elvescenen at 22:50 and if you had wished to see them from the front row, you only needed to be around the stage some 5-10 minutes earlier. Compare this to Roskilde's 6-7 hours. Queueing just is not a Norwegian thing, unless we talk about bathrooms for women. Those facilities had extremely long queues (not that I queued there personally), but Norway is great when you want to see as many bands as possible. I did remember this from Quart Festival five years ago.
Mew's setlist was expected to be similar to the Roskilde and Bremen shows. They had to cut out three songs to make this show shorter, but other than that, the order of the tracks was identical. Because Norway wants you to go sleep early, the bands must stop playing music at midnight, and Mew played the tightest ever 72-minute show. Look at the complete setlist below and notice that there was really no room for improvisations or long talks to the audience. Even the bars close at 2:30am the latest, so right after Mew, all the bars had very long queues just to get in. We went to Familien and it is definitely something I could recommend for music lovers if you happen to visit Trondheim. Good music spread onto two floors and the drinks were not overpriced, as in Norway they often tend to be.
How about I say something about the Mew show as well? Trondheim is the city they played their first ever Norwegian show back in the day, and they mentioned this on stage. All in all, it's been two years since they've played there. As was expected, they opened with Intro / Boy and I think the sound was a bit off during this, but it got better very quickly. Jonas Bjerre's singing could be heard very well throughout the show, except the high notes in Comforting Sounds. That's when he was very much inaudible. After the new track, a local friend of mine was surprised that it was all hit songs after another, and when Comforting Sounds (which Norwegians love to death, by the way) was on, he was like: "already?". Apparently he's been used to seeing that as the closing number. Personally I like it when it is not.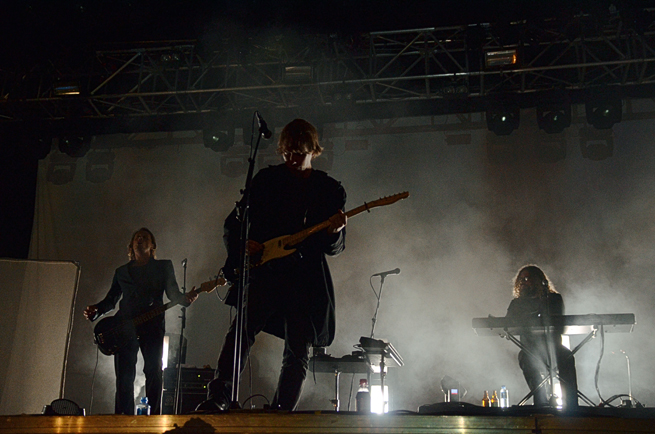 Pstereo was completely sold out with 8,000 tickets, so it was not the largest festival, but fairly big anyway. I can assure you that all ticket buyers were present at the Mew show. It looked crowded enough and I saw a couple of tracks from way behind the sound mixing tower (what do you call it?) as well. You can move in and out front very easily in Norway, because these Viking descendants are much kinder than their forefathers. During Bamse the visuals were projected on the left smaller screen and I think it was a bad decision, because from where we were standing, we could only see Silas Graae's drum set. The bear was hidden behind it. The stage was small enough so that sometimes the visuals (like the bright rays in Am I Wry? No) spread outside the stage even. This was not a flaw, it looked great all the time and it was pleasantly dark during this concert. A bit chilly, too. Some people watched the show for free from the other side of the river. A visual band like Mew looked great from hundreds of meters away, especially when the water was reflecting the lights. This I was told, I was at the festival area, of course.
In Norway Mew always talk to the audience in Danish, and they get understood. Klassen was – once again – introduced by Bo Madsen as a track that is not yet finished. So many recording equipments (mobile phones that is) suddenly appeared in the air. You warn people beforehand and it is bound to happen. Comparing this setlist to the last two shows, She Spider, Beach and – most surprisingly – Introducing Palace Players were not played. When has this happened? I'm sure that it was not an easy decision to cut the song, but due to time limit, they just had to. Along with Denmark, Norway is the only country lucky enough to get Mew shows this Summer, and that is exactly what Norwegians got last weekend. A SHOW.
As a sidenote, Jonas, Bo and Silas have now been wearing similar clothing in all the three shows of 2012. Bo in a red shirt, Jonas in long black coat (where you could hide a shotgun if you wanted) and Silas in his regulars – white shirt with black suspenders. Do you think this means something? Last tour they wore similar suits, now the styling is just noticeably different.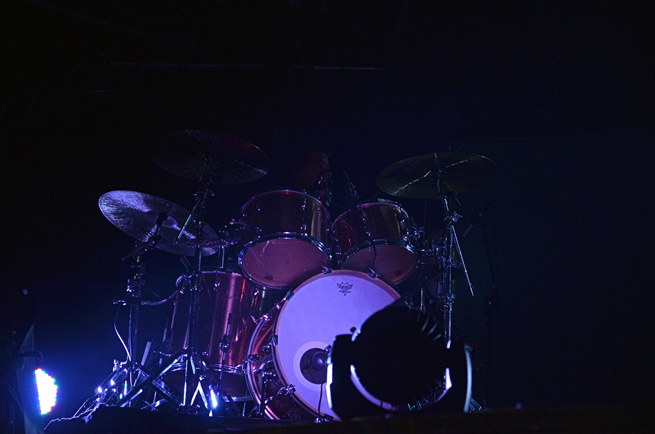 Pstereo Festival setlist
Intro – Boy / The Zookeeper's Boy / Am I Wry? No / 156 / Snow Brigade / Silas the Magic Car / Sometimes Life Isn't Easy (long) / Hawaii / Apocalypso / Saviours of Jazz Ballet / Bear / Comforting Sounds — Special (long) / Klassen
Text: Tero Heikkinen
Photos: Agata Kłusak