Incheon, South Korea (August 9, 2015)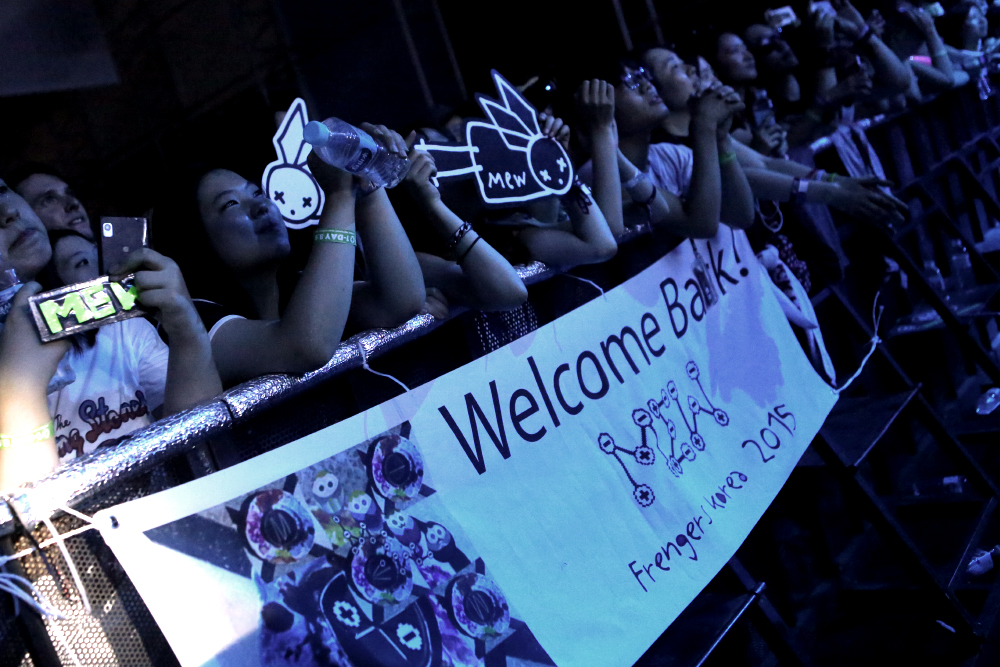 A Midsummer Night's Dream
Pentaport Rock Festival is the second biggest summer music festival in South Korea. It was held at a large park (in Incheon) which was actually only created quite recently. For many people, the festival was probably their first time visiting this location, as Incheon is neither a name nor place that's so well known among foreigners. I know that among names of cities in Korea, Seoul is the most famous of all. Incheon is about one hour away from Seoul. Until now, Mew's official SNS accounts had described this festival as taking place in Seoul. That sort of mix up is completely understandable.
This festival had its 10th anniversary this year. The venue has changed many times, but it has always taken place within Incheon. For me, the first rock festival I had ever gone to was Pentaport 2006, so I thought back to ten years ago and became lost in old memories. Back then, I had no idea that in ten years' time, I'd be getting Mew in Korea. Like a midsummer night's dream. It always seemed like an unspoken rule that during August in Asia, bands only went to Summer Sonic in Japan. I'm so happy that this rule was broken this time.
I was able to meet with Jonas Bjerre for a little while the night before the concert, and I gave him cupcakes decorated with a Mew theme as a gift. These cupcakes can be seen on Mew's official Instagram and Twitter. Jonas talked about many different plans for Mew over the next few years. It was really cool to be able to see how far he looks into the future and how his mind is always working ahead to plan great things. But of course. It's Jonas, so that's to be expected.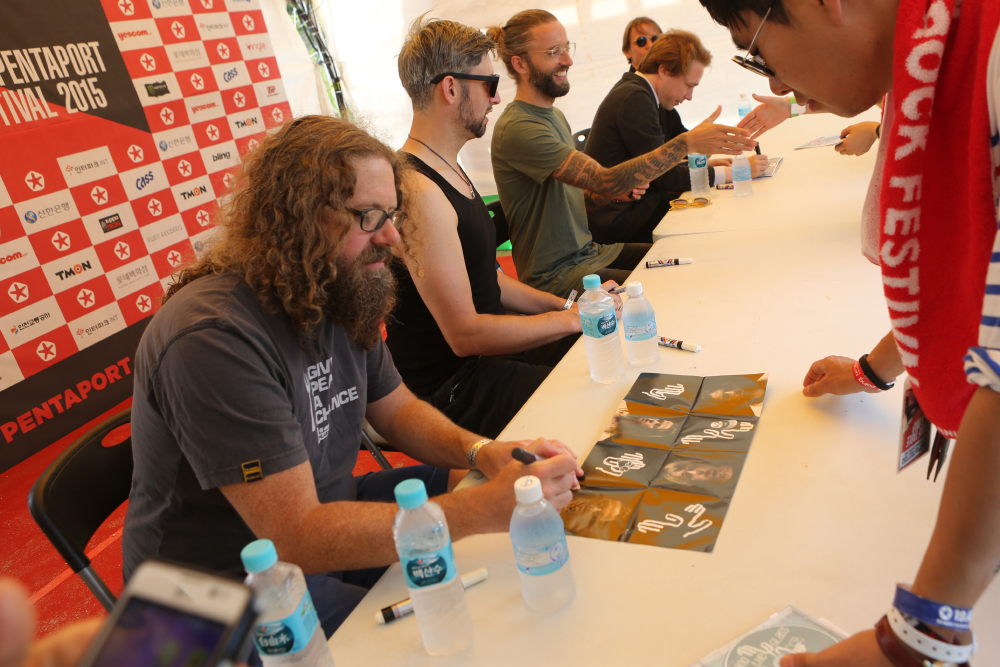 The morning of the concert, news that Mew would be holding a signing event in the afternoon was announced through Pentaport's official SNS account. You could kind of say this is one of Pentaport's customs; they don't announce schedules for signing events in advance like they do at Japan's Summer Sonic. Pentaport's signing event for Mew began at 5:30 pm. Participants were limited to the first 40 people who could only obtain a ticket for the event by purchasing a Mew CD on site.
I can't speak for other festivals in Asia because I haven't gone to them, but as far as I know Mew has always participated in signing events at Summer Sonic. For Summer Sonic's signing events, usually the first 50 or so people to spend over 1,500 Yen on merchandise are allowed to participate. And among your purchases, you are only allowed to have one article of merchandise autographed. I predict that besides Japan and Korea, there will be more and more opportunities to see Mew in other Asian countries.
Ah, and sometimes, concerts in Asia don't sell band t-shirts due to various issues and difficulties. Mew fans were disappointed that there weren't any t-shirts available at the first Korean concert back in 2010, but this sort of thing isn't uncommon in Asia. But contrary to my expectations, Mew was selling t-shirts at this year's Pentaport. The grey Mew t-shirts that were sold at Pentaport can also be purchased from foreign countries through Lezrock Live with Paypal. The official name for this t-shirt was "Circle Heathered Tee". Mew's official store (EU/UK) sells the same design on a green t-shirt, and at the European tour this past May, it was sold on a red t-shirt. Lezrock Live is a Korean company. I didn't know about this until right before the concert. The shirts sold at the gigs in Taiwan, Singapore, and Indonesia in March were the same as the ones in Korea. If you are interested in buying the shirt, you can check out Lezrock Live's Facebook page for more information.
Now, I'll get back to talking about Mew's concert at Pentaport. Once the hour passed 7:30 in the evening, we were finally freed from the sun that had been mercilessly beating down on us all throughout the day. There was even a gentle breeze in the air. Despite there being an hour left until the start of Mew's show, fans were already gathering around the Dream Stage fence in order to obtain the best view possible.
When it comes to Pentaport's Dream Stage, well… I'm sorry. Mew probably wasn't aware of this, but it has a reputation for not having good sound. The Horrors performed on this stage as well in 2014, but the sound quality was so bad that many people in the audience were disappointed. I'm not sure what the problem was, but there was a lot of criticism about this stage back then. At first, I was really worried when I heard that of all the stages, Mew would have to perform on Dream Stage. But those worries turned out to be for nothing. This year, the sound was very good. According to what I heard later on, some of Mew's tour crew arrived early to Korea and worked hard for days to ensure that they'd have good sound during the show.
Overall, there was a lot of blue light used throughout Mew's concert. It was a sweltering August day, but this lighting effectively created a wintry atmosphere. Jonas' pronunciation of "Gamsahapnida" (which means 'thank you' in Korean) has gotten even better since the first Korean concert in 2010. I'll be anticipating the next time I get to hear it.
After performing The Zookeeper's Boy, Johan Wohlert introduced all the members. I was happy to be able to hear the correct native pronunciation of all the members' names. Mew would probably be shocked if they heard all the ways their names had been written in Korean media until now. There has been all sorts of diverse pronunciations for their names in Korean, and there was no standardized way of writing them in our language. Johan likely has no idea, but I was so thankful to him for calling out all the members' names and introducing them to us.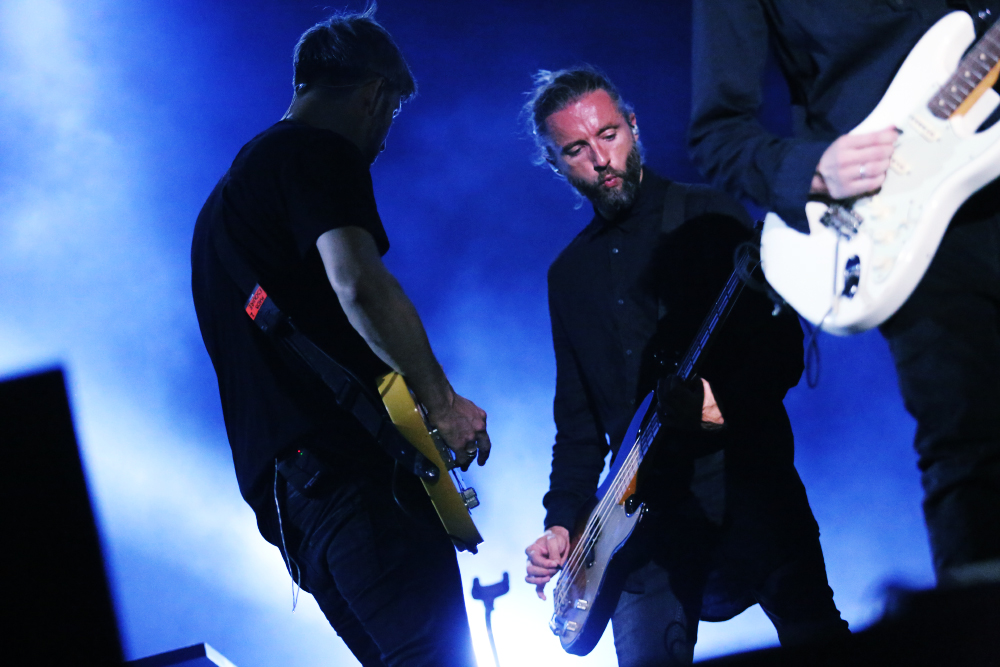 During Snow Brigade and Medley, Jonas turned the mic toward the crowd… but ah, I felt so bad. Our voices were a bit quiet during the part for Snow Brigade, but you could hear a lot of voices during "Are you my lady, are you?" in Medley. We will practice for next time.
Jonas and Nick Watts' short conversation ended; the sweet Medley passed over us, and Jonas called out the name of "Farah". And Am I Wry? No / 156 was next to follow. After a momentary farewell greeting, they began strumming the song everyone had been waiting for — Comforting Sounds. Johan said we would meet again soon. Honestly, I have no idea how the hour passed so quickly. Bathed in blue light, the people standing in the audience looked happy.
After the show, Pentaport's staff obtained autographs from Mew on a drumhead, and said this would be auctioned with proceeds going to charity. It's too bad, but this auction was only open to Korean people. It wasn't available internationally on eBay like the auction at Denmark's Roskilde Festival. According to other fans, Mew took a little break after the show, and then went to see The Prodigy who were headlining on the Main Stage.
Mew has finally performed in mainland China, and at the last slot at Summer Sonic's Sonic Stage in Japan. I hope there will be more of these kinds of connections. Through Mew's music, we can all become one. Thank you, Mew, for allowing us to experience a midsummer night's dream in Asia.
Text and photos: Hyunji Choi
Photo Gallery
Setlist: Pentaport Rock Festival
Witness / Satellites / Special / The Zookeeper's Boy / The Night Believer / Beach / Water Slides / Snow Brigade / Medley / Am I Wry? No / 156 —– Comforting Sounds