Lido / Berlin, Germany (May 25, 2015)
I once tried to see Apparatjik play live in Berlin, but that flight was cancelled. This time I decided to fly in so early (a day before), so that something like that wouldn't happen again. I spent almost three days in Berlin and it is a really fun city. Reminds me of Copenhagen quite a bit, mainly architecturally, but also because the people are very relaxed ("legalise it?"). No wonder so many Nordics prefer to live there – after Stockholm, Berlin is the city where most Finns live outside their homeland. Anyway, Mew was playing at the famous Lido venue where they have also performed before. It used to be a movie theater, so it fits the band very well. To me, Mew is very much about cinema. They are Cinemascope, they are Dolby Digital, but they don't charge extra for 3D (which is a pure gimmick that has no added value; there, I said it). No seats in this old movie theater, and I easily find myself in quite front of the stage. Familiar frenger faces there, too. They had seen other shows during this tour. To me, this is the first in 2015.
The Night Believer is the next official single, as we know (music video comes out in just one week), and I see it being performed live for the first time. Works really well without Kimbra, but that is one massively hard song to sing live. Jonas Bjerre is a professional, so he has no problems with it. When this song was first played on that Norwegian radio channel last year, so many fans (I included) rejected it… and now it feels like it's one of the best tracks on the new album. Things change quickly.
Introducing Palace Players was played in Paris a few days earlier and it makes a comeback in Berlin. In fact, it remains on setlists for all the future solo shows as well. Band has been struggling with it in rehearsals, but this new funkier and a slightly slower version works really well. Mew have heard that fans needed this song back after years of absence… and here it is. Johan Wohlert says it's probably his favourite song off No More Stories. To me it's either that or New Terrain right now. Things change quickly.
Off the three shows I saw in just four days, Berlin was – by far – the best. Crowd was really into it and the band looked happy on stage. Things change quickly.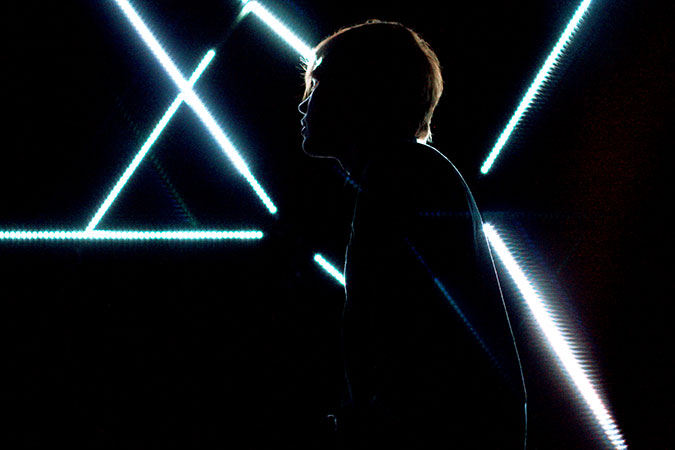 Tunnel Club / Milan, Italy (May 27, 2015)
Tunnel Club was way too hot!!! It's probably a trance club for people on drugs. I don't know. And I didn't see anyone on drugs here now, but it's not suitable for bands. I see Mew not returning to this venue anytime soon. I've never seen any band's members using towels so frequently as Mew had to do here. People's shirts were glued to skin. Audience is sweaty, but they are happy still. Mew is quite a stranger in Italy and it shows in audience numbers. I had never seen a Mew show with just 100-150 people. On my way to this show I met some cool Indonesian frengers. On the other side of the central (miles away), by accident, in a city of couple of million people. What are the odds?
As I'm writing this almost a week later, I have blisters on my feet as I walked almost twenty kilometers there. Milan is not a fun city (apparently the rest of Italy is much better, people say) and they pretty much only have three types of shops. First you see a restaurant, then a fashion store, then a cafe. That's it… plus the fabulous Duomo and a ton of hotels. You want to go to supermarket? Take a metro couple of miles off central. This is a good place to visit if you are a fashion fan. Everyone is well-dressed. I even saw a beggar wearing Prada.
Back to show. Tunnel Club has no backstage. I was standing on the left side of the stage and that's where they had a couple of chairs. Their idea of a backstage (sidestage?). One great thing came out of this, though. Ever wondered what Silas Graae and Johan do while Bo Madsen and Jonas (and a bit later Nick Watts) play the first half of Comforting Sounds? Well, I saw it. The concentration on their faces, man. They play the song in their heads. You can see it in body movements. Silas – in particular – played the song with his fingers. No chatting between them – just pure concentration. They share smiles before entering the stage. The whole thing was quite remarkable.
Drums work perfectly during the encore, as just before Medley they had technical problems. Saviours of Jazz Ballet's latter half is nearly acoustic. It sounded fun. Not at all epic where it should be, but it makes me think of this song as an acoustic stripped down version. Could work, as it would be so different. Compare it to the album version and quiet session of Witness.
Strom / Munich, Germany (May 28, 2015)
Back in Germany. If I'm not completely mistaken, Munich is the biggest German city in Southern parts of the country. The venue Strom felt like a real rock club. Not huge, by any means. A normal sized rock club where the merchandise stand is located right by the stage. Guys at the merch can see the show really well this time… and that is rare. They still have some limited edition posters left (made for Italy). I think they will still have them for future shows.
Introducing Palace Players has been played later in the set years ago. That's a great place for it. The best place for it is as the first encore, as in Munich. Jonas says it's kind of sad that this is their last solo show during this tour. Festivals ahead, first of which was held just a few days later in Istanbul. Johan remembers that before he left the band, they played their last show together in Germany. That is true. It happened in Cologne in 2006.
After waking up the following morning I traveled to see the Munich 1972 Olympic Stadium. It has a tragic story behind it. Maybe you've seen the Steven Spielberg film called Munich? The last two shows I saw alone and it's never as much fun as seeing with a friend. One needs some frengers, damnit. It is good to go back home. It is good to have Summer shows to wait for. Das ist sehr gut.
Text: Tero Heikkinen
Photo (from Berlin Show): Julia Uusitalo
Setlist: Lido
Witness / Satellites / The Night Believer / Beach / Special / The Zookeeper's Boy / Silas the Magic Car / Eight Flew Over, One Was Destroyed / My Complications / Am I Wry? No / 156 / Introducing Palace Players / Apocalypso / Saviours of Jazz Ballet / Medley (Clinging to a Bad Dream / The Zookeeper's Boy / Louise Louisa) — Cross the River On Your Own

Setlist: Tunnel Club
Witness / Satellites / The Night Believer / Beach / Special / The Zookeeper's Boy / Silas the Magic Car / Water Slides / My Complications / Am I Wry? No / 156 / Introducing Palace Players / Apocalypso / Saviours of Jazz Ballet / Medley (Clinging to a Bad Dream / The Zookeeper's Boy / Louise Louisa) — Comforting Sounds


Setlist: Strom
Witness / Satellites / The Night Believer / Beach / Special / The Zookeeper's Boy / Silas the Magic Car / Water Slides / My Complications / Am I Wry? No / 156 / Apocalypso / Saviours of Jazz Ballet / Medley (Clinging to a Bad Dream / The Zookeeper's Boy / Louise Louisa) — Introducing Palace Players / Comforting Sounds