Turku, Finland (August 6, 2021)
"There are no perfect live shows."
Mew: "Hold my smørrebrød."
Someone wrote this on Twitter right after the show, and it's funny because it's kind of true.
I haven't written about Mew in a while, but that is mainly because there hasn't been any new material or live shows in years. The last Mew live show was nearly three years ago when they ended their lengthy Visuals tour in Osaka, Japan (November 7th, 2018). The band had planned to have a year-long break only and were supposed to play many gigs last year. Then COVID-19 hit and shows were being rescheduled multiple times or were even canceled entirely. We'll see which shows they are still able to play this year as restrictions change country by country ever so often.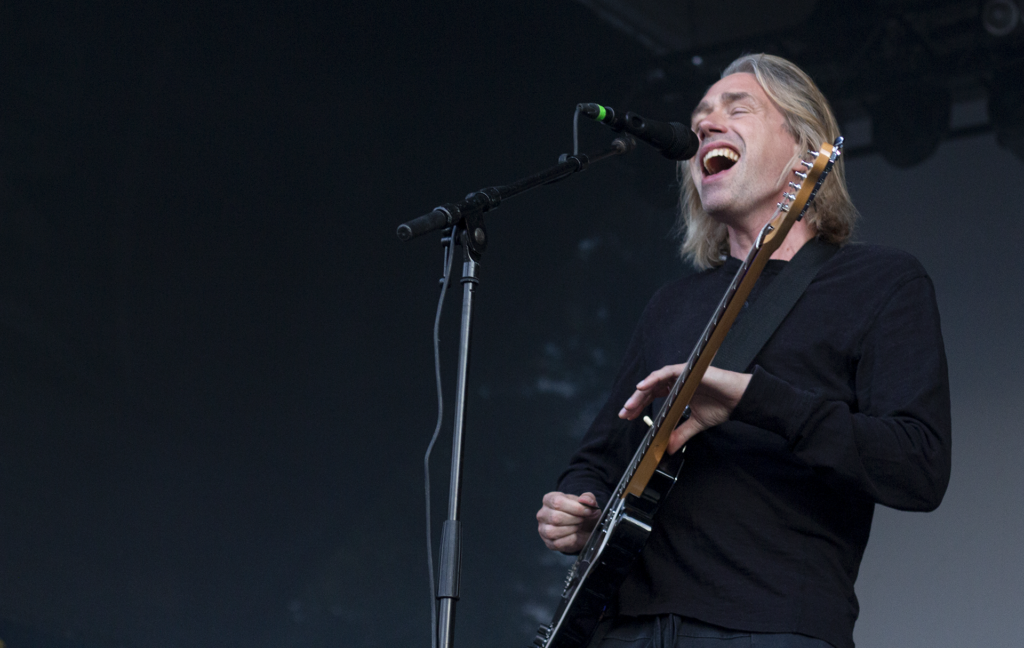 Kesärauha festival was also rescheduled three times, but they finally pulled it through. In a newspaper interview, the festival's artistic director said that he even shed a tear when Mew had a soundcheck before the festival gates were opened. The band played Special which had been the power song for the festival organisers for a year and a half. They had done everything amazingly well. For example, each festival-goer had a whopping five square meters to use when some of the bigger festivals don't even have one per person. So, safe social distances were pretty easy to keep. Face masks were free and washing places plenty. No one can complain about their arrangements.
This was the fifth time that Mew played in the oldest city in Finland. Ruisrock Festival is held in Turku and Mew have played there four times in the past, but this time they were headlining a smaller festival that mainly relied on local bands due to travel restrictions for international acts. Less than 5000 tickets per day were sold, but it was a rather large area, a beautiful setting by this magnificent medieval castle built in the 13th century. Mew and the crew were able to come, but one person was sadly missed. Nick could not travel for rehearsals to Denmark from the UK, so Mew had to teach another guy to play keyboards. Søren Møller did fantastic job, as far as I can tell.
Originally scheduled to play 75 minutes, Mew had asked to play a little longer, so they eventually got a lovely 90-minute slot. It is possible to play shorter sets – and they have – but it's not very easy now when an hour is spent on And the Glass Handed Kites alone. This was the first time that they performed the 15th… *cough*… 16th anniversary show of the album and Jonas surely remembered to mention that on stage before coming back for encores. They opened at exactly 9:45pm with Kites and it was still sunny. This is a problem in Nordic countries in the Summer, but around half way Kites it was getting darker and the background visuals could be seen in all their intended glory. Many of them were new and some old ones had been slightly altered.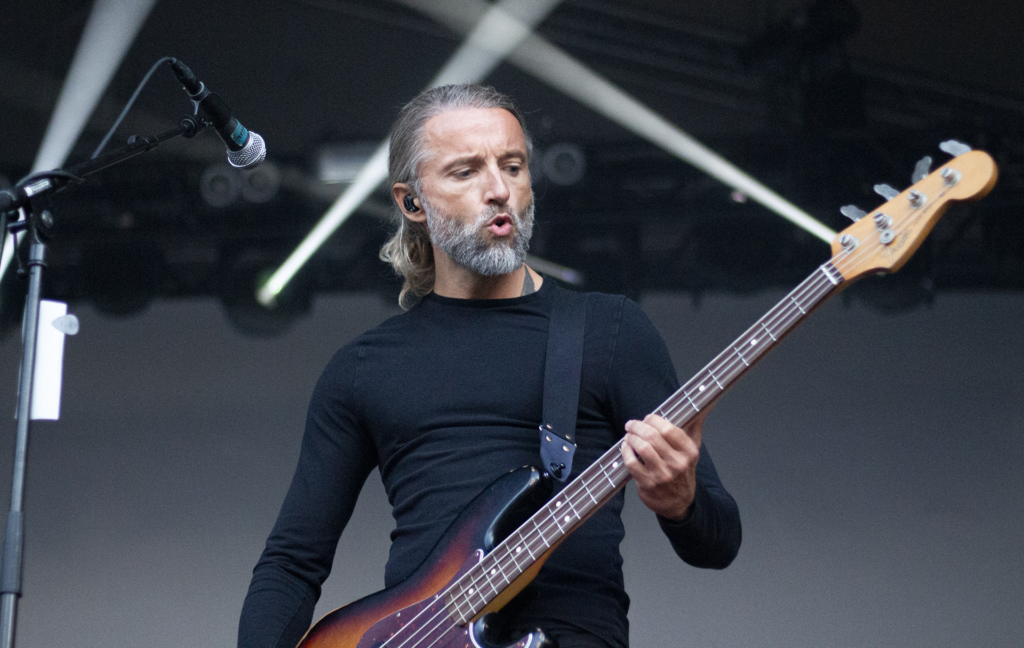 The album is about 55 minutes long, but it takes a little longer to perform live, because at the time of writing they probably never actually planned to play a concept album like that in full from start to finish. Or they may have thought about it, but there's a reason why something like The Seething Rain Weeps For You has never been on their setlists before. You know, there's a lot going on in that song, and that may even be an understatement. Some of my musician friends can't even fathom how Mew can play An Envoy to the Open Fields live. The band used to have that track on their setlists quite a bit, but even they admitted that it is a tricky one.
Why Are You Looking Grave is another one that has been absent for a long time. The "shorties", Fox Cub, Small Ambulance and Uda Pruda were all performed with actual instruments and vocals, and Jonas' voice was as strong as if he had just played another gig yesterday. A Dark Design also had its premiere here and it came with some pretty impressive background animations. As we all know without checking the album track listing, it was immediately followed by Saviours of Jazz Ballet (Fear Me December) that was previously attached to Apocalypso. Now, for the first time it was in its rightful place. I should also add that Silas was absolutely on fire and Johan and Mads were rocking like they never had a break from being on stage. How big was their rehearsal space?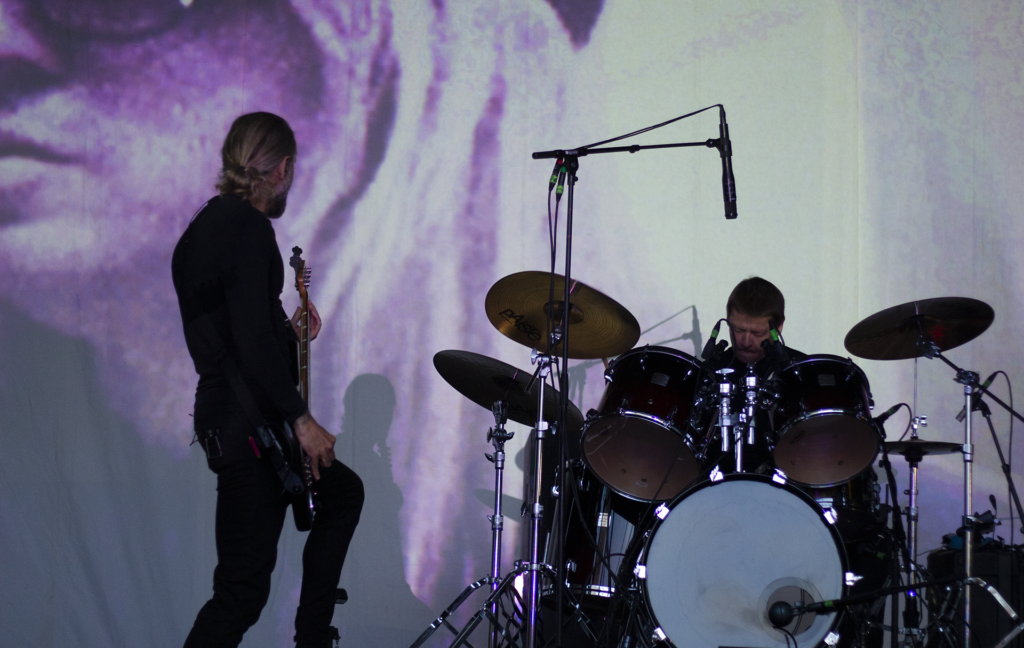 The encores had two surprises. Although not a rarity, I did not expect Sometimes Life Isn't Easy (full "I Am Shaky" version), followed by another premiere – Learn Our Crystals – which also had very impressive animations. It was very much expected that festival favourites Am I Wry? No, 156 and Comforting Sounds would end the whole show. It will be interesting to see if some of the future gigs open with random tracks and that Mew will finish with Kites. Fine, but that is tricky to do at a festival. I mean, can you leave an audience to such a sad place where Louise Louisa takes you? Probably not.
Before the Frengers hit songs, Johan said that it was quite surreal and emotional to be back on stage. Back at you, man.
Text: Tero Heikkinen
Photos: Marie Cover
Photo Gallery
Setlist: Kesärauha Festival (Turku, Finland)
Circuitry of the Wolf / Chinaberry Tree / Why Are You Looking Grave? / Fox Cub / Apocalypso / Special / The Zookeeper's Boy / A Dark Design / Saviours of Jazz Ballet / Fear Me, December / An Envoy to the Open Fields / Small Ambulance / The Seething Rain Weeps for You / Uda Pruda / White Lips Kissed / Louise Louisa — Sometimes Life Isn't Easy / Learn Our Crystals / Am I Wry? No / 156 / Comforting Sounds