Jakarta, Indonesia (October 26th, 2013)
Mew came to Indonesia exactly one day before the show. They only had a few hours to rest, feeling jetlagged, they had a press conference almost immediately after arrival. The conference was attended by over fifty medias (print media, tv-channels, radios and some lovely Indonesian frengers). A bunch of questions about their exciting new album, activities, recording days, and their fans were asked many times.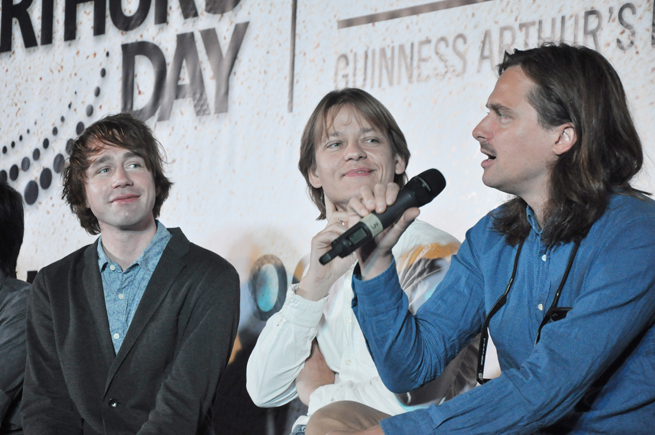 Around 6.000 fans attended the concert and the venue (Hall D2 JIExpo Kemayoran) was almost filled. Mew delivered a 90-minute set that night and opened their show with the new single Making Friends, followed by the famous Special and The Zookeeper's Boy -duo. The fans greeted the band with hysteria and spent the whole show singing along to the lyrics.
"Thank you Jakarta! It's so nice to be back here, finally. It's been way too long, thanks so much for inviting us back. This is very special for us, because of all the Indonesian Frengers. And I would like to dedicate this song to Pewee In The Garage who won a competition recently, if you heard about that and it's called 'Apocalypso' "- Jonas Bjerre.
Throughout the whole concert, Jonas, Bo Madsen, Silas Graae, Dr. Nick Watts, and Bastian Juel were awesomely energetic. As usual, Jonas and Bo talked a lot to the fans and they seemed to be enjoying their concert. Unfortunately, this time Mew did not bring out their amazing animated videos and visual background at all, but that did not cease the spirit of Indonesian Frengers who kept on singing throughout the concert.
With the impressive, unimaginable vocals of Jonas, the mesmerizing drum beats from Silas, the attractive guitar-shredding by Bo, as well as the incredible Dr. Nick and Bastian, Mew gave us an unbelievably great performance. Their show was flawless.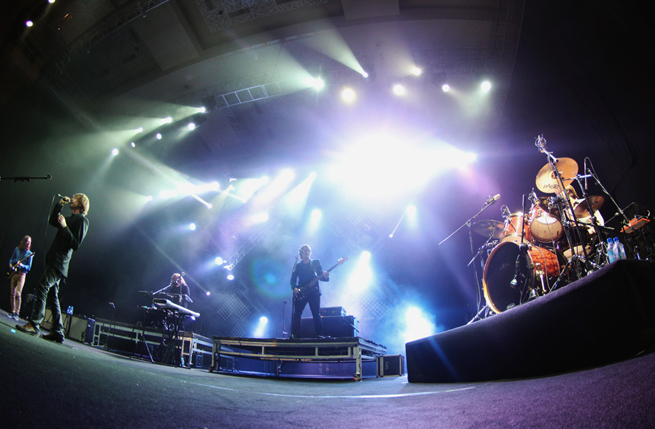 Mew closed the night with Comforting Sounds, some of the audience (which were mostly Indonesian Frengers) blew soap bubbles to create a little visual effect and support the rather 'gloomy' atmosphere that was coming from the sadness and – of course – happiness from the fans. The colored paper confetti which were thrown during the song also gave a really beautiful and dramatic touch for the finale. In short, that night Mew performed beauty that will always be remembered for the rest of Indonesian Frengers' lives. It was unpredictable and unforgettable!
Arthur's Day setlist:
Making Friends / Special / The Zookeeper's Boy / Snow Brigade / She Spider / Apocalypso / Saviours of Jazz Ballet / Medley (of Koor, The Zookeeper's Boy and The Seething Rain Weeps For You / Shelter / Swanky / New Terrain (new version) / Klassen / Hawaii / Am I Wry? No / 156 / 8 Flew Over — Comforting Sounds
Text: Dita Rachma
Press conference photo: Ainur Rasyidah
Concert photo: Mamet Mumeti