Albani Bryggeriet (double headlining show w/ Kashmir) – Odense, Denmark (September 4th, 2010)
Two and a half months ago I saw a Mew show that didn't please me much. The show at Provinssirock (Seinäjoki, Finland) suffered from bad sound, terrible weather and a slot too early in the day. This time – in Denmark – everything worked…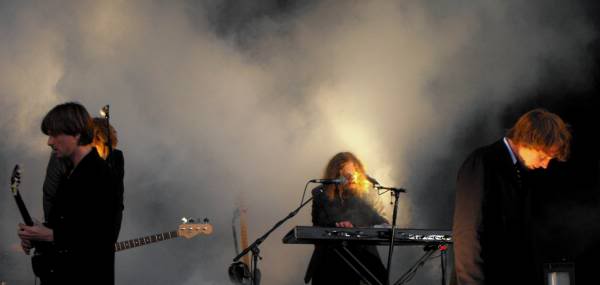 Compared with other bigger Danish cities, Mew have not played in Odense (on the island of Fyn) that much. With a population of almost 200,000 (geographically located inbetween Copenhagen and Aarhus) and being the third largest city in Denmark, it's perhaps quite surprising. Last Saturday saw an outdoor event that kicked off with a local band called Gunn. Very interesting newcomer with a very Danish pop rock sound. They might become something in the future, I tell you. The gates opened at 4:30 pm, an hour before Gunn. People came in early, and by 7:15 pm there were a lot of people. That was when Mew started playing, and backdrops were not used due to sunlight.
Mew opened with some of their biggest hits in their homeland. Special, followed by The Zookeeper's Boy got an enthusiastic response. I was surprised that they started the show with these tracks, lately the hit-duo has often been played later in the set. Bo Madsen played the intro for the aforementioned track on this "catwalk" and later Jonas Bjerre stepped on that part of the stage as well. They actually had a similar stage at Skive Festival earlier this year, but didn't take advantage of the platform back then. They looked very happy and relaxed overall. Jonas even headed the microphone towards the audience and let us sing a little bit. Not because he needed a break from singing (that's how it usually goes with other bands), his voice was perfect throughout the show. From the new album, only Hawaii was played during the first half of the show. This seemed to please the Danish crowd, cause somehow the older songs work better in Denmark.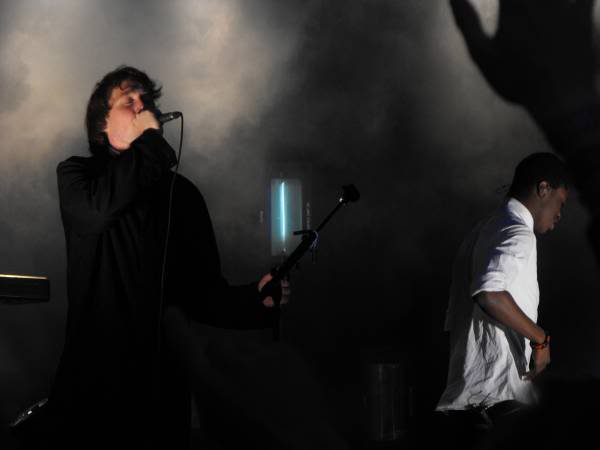 Rico Coker is a dance teacher and choreographer in Denmark. Recently he has joined Mew as the sixth live member and he sure has got the moves. Here… Mew are an oddity in the pop rock world once again. How many real bands actually have a dancer on stage as well? Rico is a visual effect and it works great. It's an interesting addition, especially when backdrops are not used. The lack of backdrops also increase the amount of smoke effects. At least in Odense, the stage was quite misty from time to time. Rico jumped on stage right from the beginning (well, mid-way Special) and was seen during the most danceable Mew tracks.
After the combinations of Am I Wry? No with 156 and Apocalypso with Saviours of Jazz Ballet, they were supposed to play Bamse (according to the setlist seen on the stage floor), but they skipped that entirely. That was a smart choice due to not having backdrops. If there's one song that really demands the background visuals, it's that one. Crowd-pleaser Snow Brigade was followed by Repeaterbeater, which finally woke up even the calmer spectators with that brutal guitar intro. This resulted in the most energetic performance from the new tracks. One guy in the audience desperately tried to balance between dancing and taking pictures with a professional camera – I had to ask him for some photos (scroll down to know more).
The setlist was carefully constructed. The following three tracks were all ballads (if you will). On the setlist White Lips Kissed was written as 'White lips/Jap.' and that got me curious. What if they originally planned to sing it in Japanese? Usually the setlist says either White Lips or Japanese, I've never seen it written like that before. Misleading, or just wishful thinking…? Jonas has never sung that song in Japanese outside Japan, but it would be nice to hear it that way someday. Hell, some of us would even know the lyrics (at least our own interpretations of them).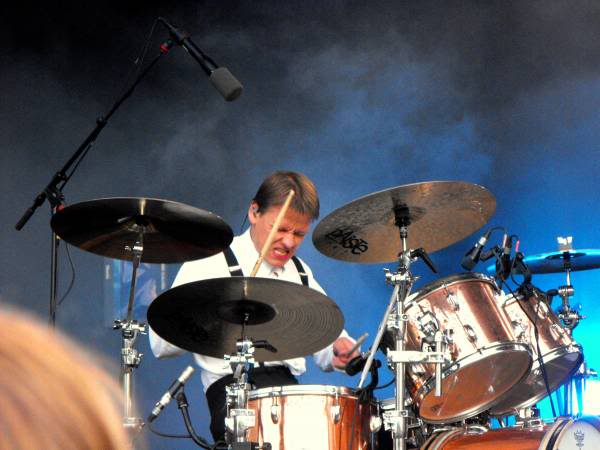 Silas the Magic Car and Sometimes Life Isn't Easy were the next slower songs, and Beach made people dance before the encores. After a very short break, we saw Jonas picking up a guitar and that's a good hint of what to expect. It's always so great to hear Circuitry of the Wolf and Chinaberry Tree live. It's not like they play these two songs on every show. Well, they're not rare live songs either, but it feels like it sometimes. Usually the time is limited and adding something takes something else away. Can you believe it that Introducing Palace Players was not played at all?
The real surprise came as the last track. I have often said that Cartoons and Macramé Wounds would be a perfect finale. Right up there with Comforting Sounds and Louise, Louisa. It was. It's a massively epic ending, and a beautiful one. Please, do this more often (especially if the overall sound is as good as it was in Odense)! Although, you could sense that the audience were still waiting for another encore (being Comforting Sounds). All them silent gasps…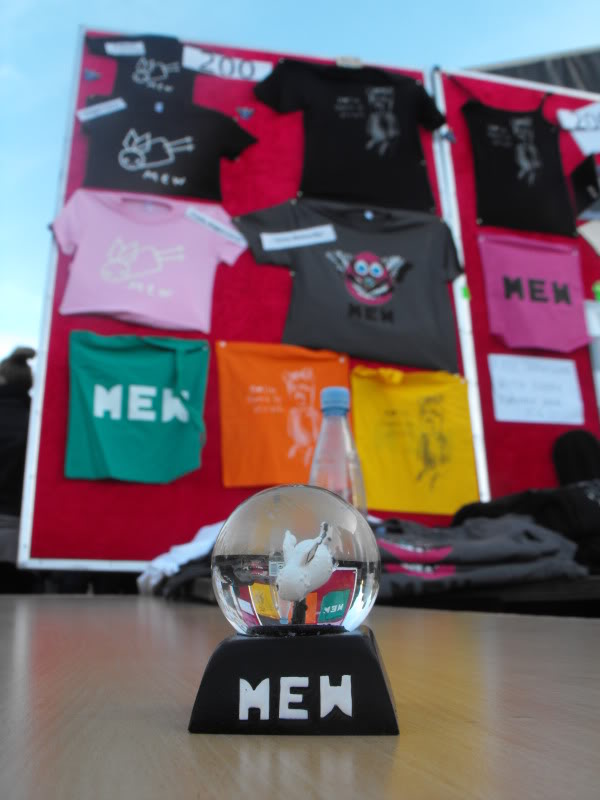 If you bought anything worth over 156 DKK from their merchandise stall, you got the free water ball (the snow ball without the snow). It was not difficult, cause all the regular t-shirts cost 200 in Danish currency anyway. This same offer applied to everyone who attended the show in Stavanger, Norway the night before.
After Mew, another big Danish act Kashmir took the stage at approximately 9:15 pm. They benefited from darkness, even though they have no backdrops, just three huge arrows in the background. I thought it would've been better if Mew played after Kashmir, but that already happened at Beatday Festival a few years ago. So, maybe it was fair this way. Kashmir is a huge band in Denmark, and the audience were more into them than they were into Mew. That partly pissed me off. On the other hand, it was a fun performance. I recognised Rocket Brothers, The Aftermath and a few other songs. And I don't even listen to them.
You can't really complain about the atmosphere at this venue. Danes are good-looking, easy-going people who love their cold over-priced beer (40 DKK for a rather small plastic cup). Albani Bryggeriet (=brewery) had to have beer for sale, you know. The weather was a bit chilly later in the evening (still nice), but I didn't care for the smell of 'pølse med brød' (Danish equivalent to hot dog).
Albani Bryggeriet setlist:

Special / The Zookeeper's Boy / Hawaii / Am I Wry? No / 156 / Apocalypso / Saviours of Jazz Ballet / Snow Brigade / Repeaterbeater / White Lips Kissed / Silas the Magic Car / Sometimes Life Isn't Easy / Beach —– Circuitry of the Wolf / Chinaberry Tree / Cartoons and Macramé Wounds
Tero Heikkinen
Photos by Kim Vermeer
As mentioned before… what do you get when you dance and take pictures at the same time? You get the pictures by Philip Bo Pedersen. His photo gallery (with some audience shots as well) can be found here.