A couple of weeks ago Bo Madsen wrote on Facebook that Mew have gone independent and that they are (after more than a decade) free from Sony Music. For many this did not come as a big surprise, because Mew have always been the kind of band that wants to do whatever they like, and big record companies may set certain restrictions on bands. Whether this was the case with this particular Danish band and this particular global giant, we – the public – don't really know. What we do know is that Mew were not dropped by Sony and that the two-sided discussions took a long time with all the paper work, all the legal issues, until they were able to set foot completely on their own label Evil Office.
The world of music is very different from early 2000's. Times change, the role of record labels have changed radically, and today bands often sell singles rather than albums. We've heard and read from many interviews that this is something Mew never wanted to do. An album is an album. Even in 2013.  I've been in touch with Sony (Nordic department) constantly over the years and they handled Mew very well, in fact. For these big whales (as Bo calls them) it is crucial to have bands that make a lot of money so that they can also have bands with certain prestige, but are not super-profitable. We know for a fact that at least And the Glass Handed Kites cost a dollar and a cent to produce, spending months in a studio with a big shot like Michael Beinhorn does not come cheap. Yes, Mew are expensive during their creative period, but that's not to say that they don't sell records. They do. Hundreds of thousands of them.
Sony did so many things right and Mew have no complaints about them. Being on a big label gives you many benefits. For instance, without them, I (personally) would never have heard of the band. At least not as early as in 2003. And same goes for you, you… and you wearing a Mew shirt in the back row. With Frengers, Sony made sure that mainstream audiences became familiar with the band in Denmark, Norway and Finland. Also Sweden, to some extent. In USA, UK and Japan they also have huge fanbases, but countries like UK can also be very difficult as they have too many bands and often favour their own. This kind of favouritism is a plague, in my opinion, and that is why Sweden is the only Nordic country (excluding Iceland) where Mew always play sold out shows, but album sales somehow struggle.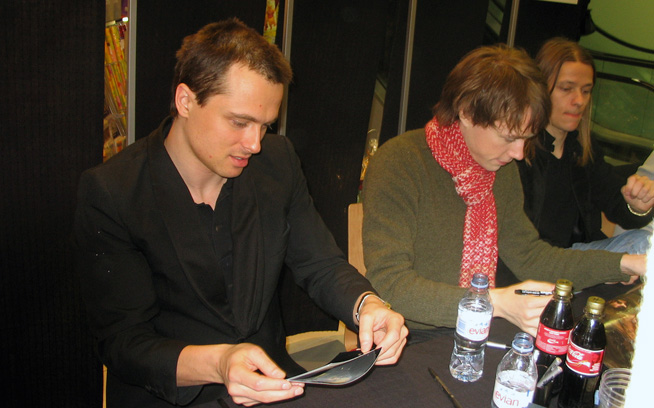 Part of the promotion – Mew signing autographs in Helsinki, Finland (March, 2006).
In countries with large populations they are – naturally – able to play live shows for big crowds. In the States, Mew have played for sold out audiences in New York, Los Angeles, Chicago, you name it. In UK, filling a large venue in cities like London and Manchester have never been a problem. USA is only problematic for its size and distance from their homeland, it's very costly for a foreign band. Same, for example, can be said about Indonesia, Mexico and the country where they've never played before – Australia. You know, these countries where we know that fans exist – in considerable numbers. Hopefully Mew's new friends will also distribute and promote the upcoming album in countries like Germany (their neighbour!) and France, for instance. These are countries where live shows are easy to set up. Their 2009 intimate 300-capacity show in Paris is my favourite show ever.
The first hint that the deal was coming to an end was over two years ago with Eggs Are Funny. Just a few weeks prior Mew had said in an interview that they would never release a compilation album. Oh, well. Throw in one extra song and they are happy, but Do You Love It? is something Mew can write in their sleep, isn't it? Yes, even the awesome guitar riff which – in fact – already existed and had been played live a few times. Even the lyrics were referenced from an old T.S. Eliot poem. Where Eggs Are Funny is a big success is the DVD, and hopefully we'll see these music videos in High Definition soon. I collect Blu-rays only, damnit.
So, for a while now, the band has been looking for independent collaborators all around the world. They've had lots of offers after the rumour of independence started to spread, and on Facebook they wanted to see if YOU had some great ideas that were never considered. Surely there must have been some and they are looking into them. Mew want to be on their own label, Evil Office, but they also need help distributing and making their music available everywhere in the world. They want to work with dedicated people, with those independent labels that make sure that it will also make sense touring there.
To conclude, this website would not exist without Sony Music, and for that I am eternally grateful.
Tero Heikkinen
Photo by Marie Syrjälä