MewX -fansite opened on June 15th, 2006. The date was deliberately set to 15/6 which is the way Europeans like it. American system couldn't work here, there's no January 56th, you know. The website was originally in Finnish language only, but it was always planned that Danish and English would be added at some point. Since Mew -fans around the world are perfectly capable English-speakers, we decided to skip the two languages (with only some five million native speakers in the world) and stick to the one and only real world language.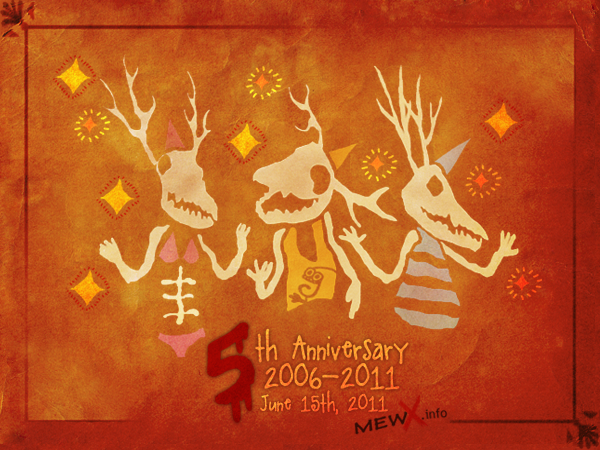 Reading these weekly statistics is always interesting. No matter what the time period, mostly the visitors seem to come from the following countries: Denmark, Finland, Norway, Sweden, United States, Mexico, Japan, United Kingdom, Indonesia and Canada. These could very well be the ten countries with most frengers. It could easily change if Mew ever got to travel to Australia, for example. Our good friends over at Mewstralia know this very well.
In addition to the link above, there are many Mew -fansites around the world. Mexicans, Indonesians and Chileans – just to name a few. Lolmew and other countless tumblr -sites have a different approach. They are more artistic than we have ever been, many of the images and ideas are so much fun to look at. The band members of Mew appreciate all your efforts to spread 'the word'. Mew – in 2011 – are more famous than they were five years ago, but there's still work to be done. It's rather sad that millions of people have missed out on their music, mostly due to non-existing marketing in various countries. Mew are not exactly radio-friendly material, but they could be (as Nordic radio channels have already proved). Today – as silly as it sometimes can be – Facebook is the unbeatable marketing tool for and from everyone, MySpace has lost so much credibility and even bands are avoiding it to some extent, Soundcloud and the likes offer much better sound, working smoothly.
Let me go personal for a bit. I first heard about Mew in 2003 when 156 -music video fought aggressively with the Finnish band The Rasmus that always seemed to have a new video claiming the #1 spot (voted by fans) on MTV Up North -program. This was eight years ago. This was when MTV actually played music and not reality tv-shows. I was at Ruisrock Festival that Summer and missed their first ever festival show in Finland. I was quite mad about myself afterwards, especially when I had heard "Mew", "Mew" and "Mew" so many times while walking back home from the sunny festival area. It took another two years before I actually saw Mew live for the first time. That was at Provinssirock in 2005, and I was lucky enough to have a brief encounter with Jonas Bjerre and Nick Watts after the show.
So much happened before the idea of creating MewX came to mind, but I'd like to keep these things to myself. I used to have a blog where I spoke about many (somewhat naïve) things, but that blog is now dead and gone. Deleted from bit universe. For all our sakes.
It would be great to hear your story. If you want to share a few lines about how you first heard about Mew, we would post the best ones here later this week. Just comment this post and I'll read it. Also… don't forget our Twitter -contest that will be launched tomorrow.
You guys are great. Yesterday Mew had only 2% of the votes here, now they're at 17%, having a proper lead.
Tero Heikkinen
Image by Hyunji Choi
PS: The above image is not clickable, but some are. Did you click on the image from yesterday?