While on hiatus from their main projects, old friends Jonas Bjerre and Tobias Wilner (Blue Foundation) finally found the time to work on a project together. The first sign of life from the new supergroup, Tachys (presumably named after a type of ground beetle), was a cryptic social media post in January 2020. What this project was supposed to be from the beginning, is unknown to me, but from what I've picked up, a full album wasn't necessarily the original plan. It grew organically out of their creative process.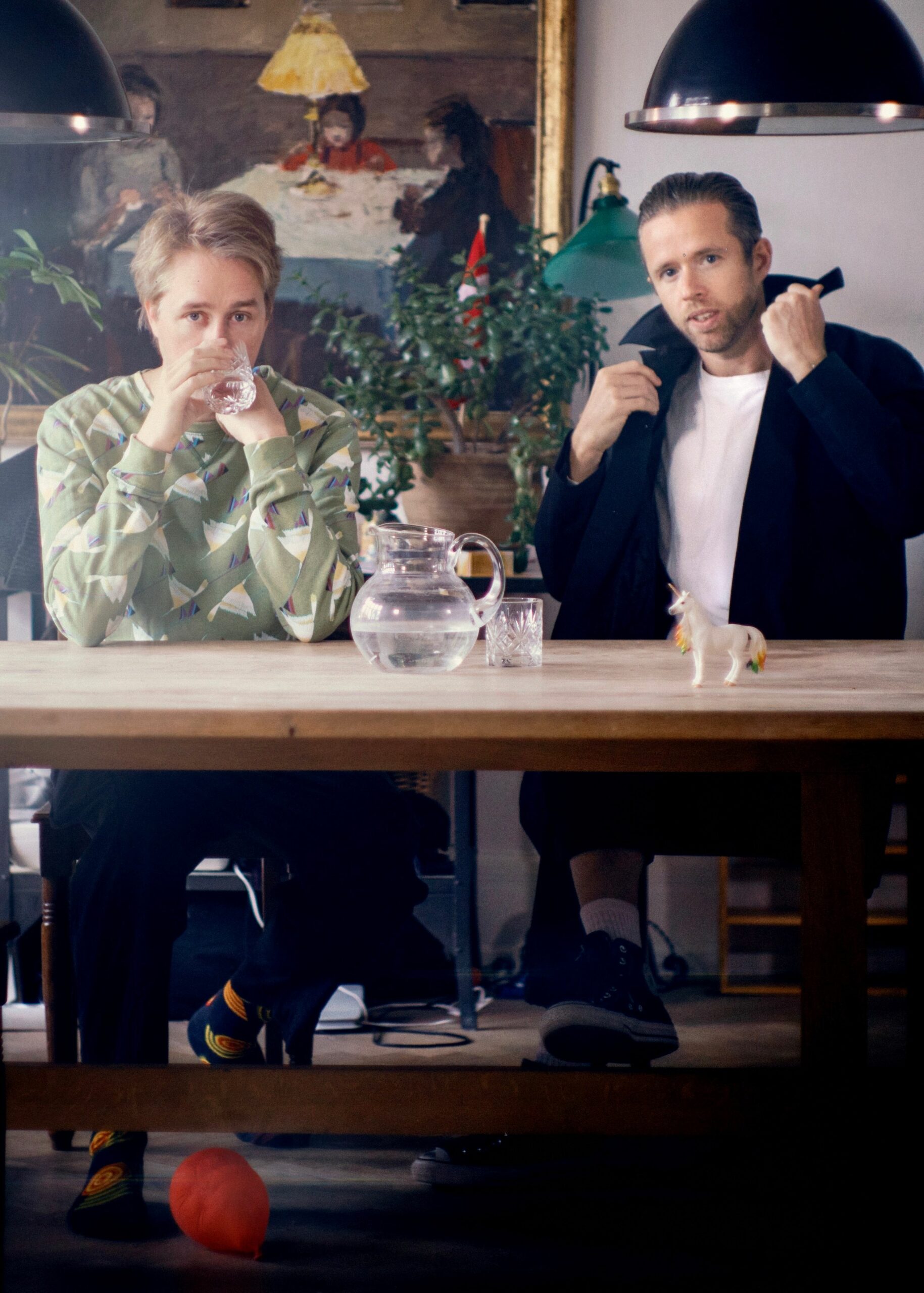 Summer 2020, a light in a dark time, was hearing Tachys on the radio for the first time. "Signify" was played on Danish radio station P6 Beat.
"Sick of triggers, deadly flickers."
The dark and visual lyrics tell a story about how we're forced to deal with a constant flow of information and FOMO, and perhaps the need to disappear for a while. And they did. Not much was heard about other songs, but they kept posting cryptic animations on their various socials, with fitting mysterious audio. Not until the next summer, did we get an actual song release. "When the World Wakes Up" was the first single and music video. Based on initial reports and their social media posts, the song was a bit of a surprise to many. It was so… catchy. The chorus will stay with you. I personally expected the sound to be much darker and hard to digest.
"When the World Wakes Up" was however a song I liked a lot, and seemed to fit perfectly with the time we were in. In familiar fashion, Jonas' lyrics are darker than the music, singing about how worried he is about someone, and what will happen "…when the world wakes up".
A couple of months later, single number two came out. "Signify" could finally be heard again, and was accompanied by a music video, showing different sides of Tobias and Jonas than we had perhaps seen before, like getting beaten into a bloody mess. A metaphor for the lyrical content.
Another few months went by, and single number three, "Magenta", came out in December 2021. Once again it sounded different from what we had previously heard. The first thought that popped into my head was, "Is Jonas mumble rapping now?" The song is apparently built on an old FastTracker II sample, made on Jonas' old PC in his adolescence. A track that quickly grew on me. Jonas' style of singing here is quite different from what we're used to from him, and it seems like he's enjoying experimenting with his vocals on the album.
It took a few more months, but now we finally have the whole album, so let's get to the rest of the songs. The first track on the album, "Fall Down", starts off with the voice of a young girl seemingly asking what we all thought when we first heard the name of the band; "Tachys?" The song is built almost entirely on modular synths, reminiscent of the glitch/electronic indie pop stylings that found some popularity in the 90s and 00s. As you would guess from the strong love song chorus, the song is about a kind of endless love between two people.
"Hello. I wish I could have known you. I'd carry you inside too, with me."
My personal highlight of the album is, "I Wish I Could Have Known You". The droning instrumentation reminds me a lot of one of my favorite groups in the genre, British duo Fuck Buttons. The song is 4:29 long, but I would have enjoyed it perhaps even more as a dragged out drone number. As much as I love how beautiful the first half of the song is, it's especially the way the song builds up towards the end that makes the song so great to me. Italian avant-garde drummer Federico Ughi, known for his work with Daniel Carter, William Parker and New York United (a project with Tobias Wilner) plays the drums on the track.
There are two vocalists in Tachys, and although most of the songs have Jonas Bjerre as main vocalist, the quiet and vulnerable song, "Thunder of Color", is sung by Tobias Wilner. The song is about a broken soul that remembers the hot summer nights of free love. A heartbreaking song that to me can be read as a commentary on more current events, and how good things used to be when we were younger.
Malaysian singer Yuna is featured on "You Can Be My Guide", a beautiful duet about escaping the clutches of narcissism and finding your true self. A chorus that stays in your head, and is sure to be one of the more popular songs on the album. A gorgeous piece of music.
"Pierce me, fiercely. We all deserve to be destroyed."
Those are the last words from the up-tempo, happy-sounding, "Pierce". Jonas delivers this dark and sadistic message, sounding like he has no cares in the world. Like we're all getting what's been coming for us. The next track, "The Rain Keeps Pouring", doesn't seem like it offers much more hope. This is another glitch-style song, like "Fall Down". The song was written in a taxi, driving through a big city. A heartbroken clown is gleefully tearing down all the pretty things around him.
The album ends with a quietly majestic song, with oscillating synths in the similar vein of Swedish synth electronica duo The Knife. They are every bit as haunting as the lyrics. Tobias sings about a single father missing his grown up daughter, who's left her childhood home. An album closer that leaves you feeling quite emotional. Not only because of the lyrical content, but because the album is over.
Luckily we also get a bonus track. "Sometimes We Do", is a five minute long drone track, ending as suddenly as it starts. The atmospheric synths and vocals by Jonas, is a fitting end-of-the-night song at any underground rave club. This sounds more like what I expected the whole album to sound like before having heard as much as a note from Tachys.
Tachys' eponymous album as a whole is an experimental victory, with a mix of trippy dancefloor music, dark themes, romance, droning synths, catchy melodies and nostalgia. The only fault I can find is that it leaves you wanting more. What started as a little side project, has turned into a fantastic album which deserves a lot of attention. What Tobias and Jonas decide to do in the future together is up in the air. If this ends up being a one-off album, it would be a shame, but I'm grateful that it happened.
Text by: Oddvar Røste
Photo by: Tachys
Track list:
Fall Down

When the World Wakes Up

I Wish I Could Have Known You

Thunder of Color

You Can Be My Guide (feat. Yuna)

Magenta

Pierce

The Rain Keeps Pouring

Signify

Dear To Me

Sometimes We Do (Bonus)