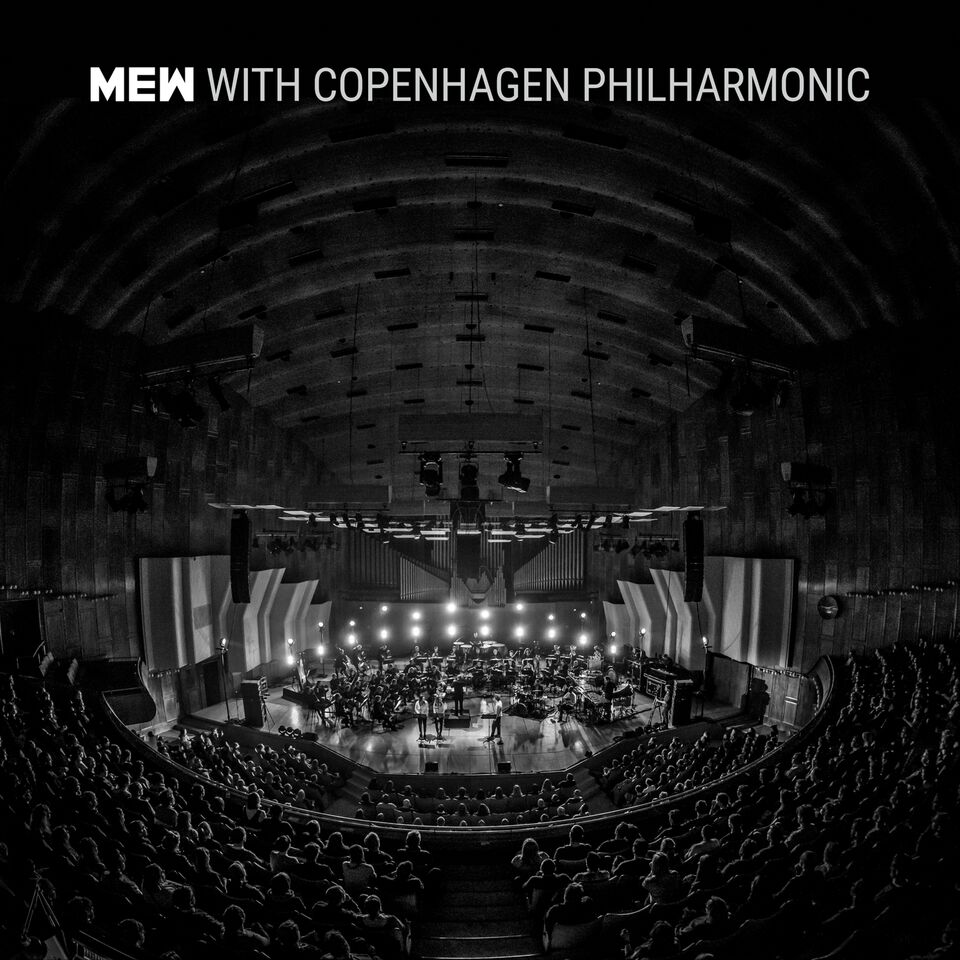 Before writing anything here I decided to watch the fabulous 90-minute documentary, Score (Dir: Matt Schrader, 2016) which I can highly recommend to anyone who enjoys this album. Why? Mew rarely writes music specifically to a film. That is true, they rarely have. But they write music suitable for a film, whether they know it or not. Take Louise Louisa, for example. It is so orchestral to begin with that the And the Glass Handed Kites -version is really not that different on this Copenhagen Philharmonic album being reviewed here. Same could be said about Carry Me To Safety, or any other track that has cats or other creatures playing violins during live shows. Score -documentary shows how carefully orchestras choose their venues based on acoustics, be it Abbey Road in England. Or something in Denmark. Mew with Copenhagen Philharmonic is an all Danish production.
I missed 60 Minutes of Mew live performances at Konservatoriets Koncertsal (February 9th, 2017) where Mew joined a full orchestra playing some of their biggest hits. This album combines recordings from the live shows AND a separate studio session that took place after those shows, and mixing and matching is done so well that you still won't be able to hear audience noise in the background. For example, Johan Wohlert and Silas Graae were not present at the studio session, so bass and drums were recorded entirely during the live shows, but as the album concentrates on orchestral instruments (strings, horns and what have you) and vocals, it is not heavy on bass or drums. Jonas Bjerre likes to call this a semi-live album.
On various social medias I did see clips that people had recorded from the live shows, but I wasn't entirely sold right then and there. Oh well, the album sound is absolutely amazing. Take it from someone who listens to orchestral music all the time. Hans Ek (from Norway) was the conductor, and together with Mew, composer Karsten Fundal arranged the songs. Yes, he is a film composer. Surprise, surprise. Album was produced by Karl Bjerre Skibsted.
The arrangements are the same as at the live shows, but they added more harmonies and choir voices. Something that they were physically unable to do live. Jonas's voice sounds really powerful and tender on this recording, and if you saw the concert live, you saw that there were two women singing background vocals on stage as well. Only Sasha Ryabina can really be heard on this album, as she was at the studio session as well. Although a little shorter here than on Frengers, due to its massive length Comforting Sounds had to be taken off the vinyl release, but it is available as digital download. It was either that or two other songs and Mew didn't want to lose any of the sound quality, so compromises had to be made. Rows was also recorded, but not finished, as it was already known that the vinyl would not have enough space anyway. Maybe it will pop up from somewhere sometime later.
When I saw the track listing, An Envoy To The Open Fields was the song I was mostly looking forward to. And it didn't disappoint. I didn't even want the song to end, and thankfully it keeps on going as instrumental only for almost two minutes more. Satellites is another revelation and I can think of many Mew songs that should get this kind of majestic reimagining. White Lips Kissed has an emotional opening that takes its time. In fact it's evident that this could have been a film score for a serious tearjerker. It feels as if there is another main theme playing in the background. A very beautiful one. Whatever the orchestra is doing here, I wouldn't mind listening to it separately from the more familiar melody. The ending even has some added lyrics. This must be my favourite track here.
Making Friends opens with an overture-like arrangement and I wish the instrumental part had been a little longer before vocals kick in. The timing for vocals in many songs is so different that you might start singing the following verse either too soon or too late. You have played the album versions for so long that the songs are clearly in your muscle memory. This album is its own thing, and I am listening to it in Saigon now, so maybe it becomes my Mew Vietnam Album. Hey, I like the sound of that.
Making Friends (5:26)
Satellites (6:16)
Water Slides (6:00)
Louise Louisa (7:43)
An Envoy To The Open Fields (5:12)
White Lips Kissed (7:20)
Carry Me To Safety (3:07)
Comforting Sounds (7:24)
Text: Tero Heikkinen