This interview was made by MewX.info on April 7th 2007. The interview was made while MewX was in Finnish language only and therefore some of the questions are about Finland. All copying and/or publishing of this interview without permission is strictly forbidden.
FACTS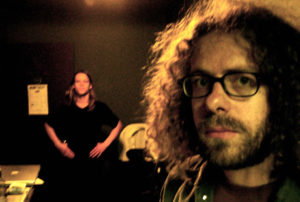 Name: Nick Watts
Hometown: York, in the North of England. I didn't live there for long as my folks moved to London when I was about three.
Date of Birth (or age): Really!
Marital status: Married
Children: I love 'em! I couldn't eat a whole one though.
Favorite Mew-song: Right now I really like playing Chinaberry Tree and Saviours of Jazzballet. She Spider is always a blast. Comforting Sounds would be the one to go in my Top 10 of best-songs-ever though.
Favorite bands/artists: It varies. I'm checking out Oceansize, Field Music, TV on the Radio and Explosions in the Sky at the moment: all good stuff. I was raised on the Beach Boys, so I'm a bit of a sucker for vocal harmony. I have been known to love (in no particular order): Yes, Prefab Sprout, Iron Maiden, Interpol, RATM, Godspeed! You Black Emperor, Pearl Jam, Led Zep, DJ Shadow.
Favorite movies/directors: Withnail and I, The Odd Couple, Stanley Kubrick, Michel Gondry
Favorite books/authors: Man. I got my first TV when I was 27. So – as you can imagine – I read a lot of books when I was a kid. I've loved reading for as long as I can remember. Probably too many favourites to say. Some trivia for you: my Great Aunt is called PD James. She's a writer.
Motto: I don't have one. My Mum used to say "If you're going to do something, do it properly or not at all". I'm not sure that this is great advice. But it's made me something of a perfectionist.
THE INTERVIEW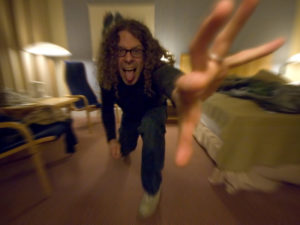 We've seen you on guitar, keyboards and other various instruments – how many instruments do you play exactly?
-Uh, I started playing violin when I was five. I can play a bit on most stringed instruments. I'm an all-rounder. Jack of all trades – master of none. I love to play the drums. I'm not all that good, though. I sometimes have happy dreams where I can play the drums really well.
What equipments do you use on stage?
-That's changing a bit right now. I started off with my old keyboard rack. Includes two Akai samplers, an Emu Vintages Keys module, some effects, etc. Plus a Roland A-30 midi keyboard and a Korg MS-20 (classic analogue monosynth). But… because we're travelling so much – and it's expensive to fly all that gear to Japan and back – it's all stripped down to one uber-sampler plus the midi keyboard. I just got a new Roland Fantom X7 and will be working on using that as my sole keyboard.
What other talents do you possess?
-I wouldn't really know about that. But I love photography and publish photos to Flickr fairly regularly. http://www.flickr.com/photos/coldmountain/
Where does your nickname Doctor come from?
-When on tour I used to check in to hotels as Doctor Watts figuring that would get me good treatment. There have been a few times when I've phoned down to reception in the middle of the night trying to get hold of booze. As I remember, I would claim to have "a very sick patient in my room and I urgently need some Ethanol. No? Do you have Methanol? No! Damn. Can you send a bottle of Vodka? Or Gin? It's not perfect but it might help sedate them…" It didn't work once.
How did you get involved with Mew?
-I used to have a band called Headswim. We split up in early 2001. Soon after that I was in my old A&R man's office at Sony HQ, trying to figure out what the hell the future held for me. A few months later, he signed Mew, and they asked him if he knew a London-based keyboard player. So we met. Got on like a house on fire, and before I knew it I was flying out to Copenhagen for rehearsals.
You've played in Finland many times, is the Finnish audience any different compared to other countries?
-As I write it's been a while! But I have such fond memories. And of course Finland is home to some of the most beautiful girls in the world. All of us are really looking forward to playing some more concerts there. I think it'll be a while though. There's a new record to be recorded first.
You're a family man, how do you keep balance between touring and your family?
-It can be hard sometimes. Touring is a lot of fun, but I also love being at home. Fortunately my "missus" is very independent, and doesn't mind having some time to herself once in a while.
Do you secretly hope that you'd be accepted as a full member of Mew someday (the fans have already done that)?

–I'm pretty happy the way things are.
Are you going to be involved with the next album of Mew and if so – how?
-I don't think so. If the guys want to play some stuff I'll happily oblige, but I'm pretty sure Jonas can take care of the keyboards. He's good, y'know.
Can you tell us something about the upcoming album and when do you think you'll be back on the road again after the Kites-tour is finished?
-As I write, the guys are looking to start recording sometime late Summer 2007. Hoping to be ready for a new release in Spring 2008. But you never know how these things will pan out.
Do you know any Finnish words?
-No. Sorry!
Tero Heikkinen